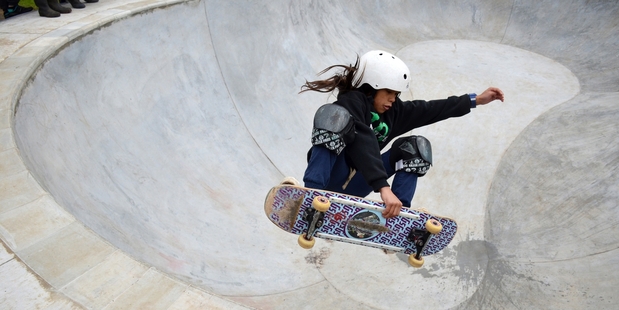 Internationally renowned skateboarder Dave Crabb was the first person Far North District councillor Sally Macauley turned to when she set about launching a $120,000 revamp of Kaikohe's skate bowl.
Dave and everyone else involved did a fine job, which was publicly recognised when the 'new' bowl was officially opened on Saturday, but he also offered a reminder that even the best can part company with their wheels.
Dave set about giving the new bowl a trial run on Friday before the big opening and his planned demo on Saturday, but broke his hip when he landed badly. Emergency services were called to lift him out of the three-metre-deep bowl, but even before he began his journey to hospital he was vowing to be back on his board as soon as possible.
There were no such dramas on Saturday. Mrs Macauley recalled that a decade or so earlier, with the support of Kaikohe's young people, she had raised $160,000 to build the park, but times had changed. Skateboarding had developed into an art, requiring ever greater skill, and the town's aficionados were asking for a facility to match their higher aspirations.
She had talked to the skateboarders to establish what they wanted in terms of more intricate obstacles and jumps, and, after discussions with Dave Crabb, an engineering plan was produced and presented to the skateboarders.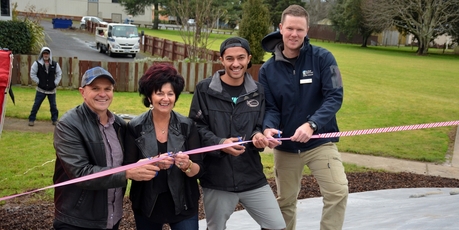 "And here it is - it's actually happening," she said on Saturday, "but it is the funding organisations we have to thank for this fabulous new skate bowl, $100,000 worth of incredible work."
They included Foundation North, Pub Charity, the Sir John Logan Campbell and Oxford Charitable Sports trusts, and the Far North District Council, which had made a "significant" contribution from the skate park depreciation fund.
There were some very important people without whom Kaikohe would not have such a "remarkable" facility, beginning with Dave Crabb, principal of Circle D Construction.
"Special thanks to you and your team for your passion and amazing skill as our skate bowl engineer," Mrs Macauley said.
His guidance and advice had been superb, despite the rain and the "tiresome" behaviour of a couple of young people who destroyed the worksite fencing and created the need for significant additional labour, and Mike Mitcalfe and his team from Stonecraft NZ in Kaitaia had generously answered the call to concrete the bowl surrounds.
And she had special thanks for the "fabulous" FNDC management team (Mike Colebrook, Mark Osborne, Zane Wright, Allan Cammell and contractors Ramm Software Ltd., Mayor John Carter, acting chief executive Colin Dale, general manager infrastructure Jacqui Robson and general manager of communications Richard Edmondson.
She acknowledged the support from the Kaikohe Business Association. Mrs Macauley and police youth aid officer Wally Te Huia were planning to have the older section of the skateboard park sandblasted so the surrounds could be decorated with graffiti art, and the installation of lights and security cameras, but now, she concluded, it was time for the fun to begin.