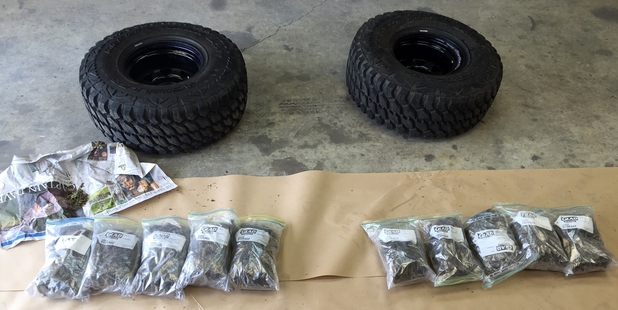 Behaviour that a member of the public regarded as suspicious led to the seizure of tens of thousands of dollars worth of cannabis in Kaitaia last week, exposing an attempt to 'export' the drug from the Far North to the Deep South.
A police spokesman said a man in his early 20s, with no history of drug offending, had been charged with possession of cannabis for sale after he allegedly tried to arrange dispatching of two wheels from Kaitaia to Queenstown. Police were notified, and discovered almost three kilograms of what was described as high-quality dried head material.
Sold in the Far North by the ounce (as opposed to smaller quantities) it would have had an estimated street value of $36,000, but in Queenstown, where the drug is reportedly in short supply, it might have fetched more than $80,000.
Two women were subsequently arrested after a search of the man's rural family home south-east of Kaitaia, where more cannabis and a sawn-off shotgun were seized (despite the alleged efforts of one of the women to conceal it).
Both now face drug and firearms charges, while the investigation of a fourth possible offender are continuing.
According to police the man had couriered the wheels from Queenstown to himself in Kaitaia, then last week attempted to send them south again by the same means. By the time they were ready to be "exported" they were significantly heavier than they had been when they arrived.
The arrested man was originally from the Far North and still had family there.
"It seems to have been a family enterprise," the spokesman said, but he and another family member had flown to Queenstown on Wednesday.
He was arrested in Queenstown on Thursday, and was due to make his first appearance in the District Court there yesterday.