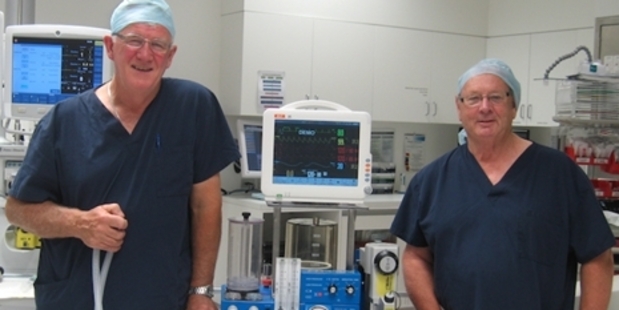 Ivan Batistich, the son of a one-time gum digger, will take his place on the world medical stage in Hong Kong next month.
Mr Batistich and his business partner, Dr John Hyndman, have won the World Innovators of the Year title with their Hyvan anaesthesia machine, following their success in the New Zealand Innovator of the Year awards. Their invention is a small, reliable, cheap, low-maintenance anaesthesia machine, suitable for developing countries.
The pair will receive the World Federation of Anaesthiologists' Innovation Award at the World Congress of Anaesthesiologists in Hong Kong, in front of 10,000 anaesthetists. The congress is staged every four years as a forum for presentation of papers, innovations and software, to honour new innovations and present awards.
The invention has been hailed as giving the Third World access to modern technology at a fraction of the price of other machines.
Dr Hyndman is a Christchurch specialist anaesthetist, who began his medical career as a GP in sole practice in Auckland, while Mr Batistich was raised in Kaitaia, the son of Dalmatian farmers Mary and Frank Batistich. Educated at Kaitaia College, he went on to study veterinary pathology at Sydney University, graduating in 1970 with an ASC Australian Certificate of Science. He returned to New Zealand and worked as a field engineer for Burroughs.
In 1972 he married Barbara Coulthard, and the couple settled in Auckland. Six months after they married Barbara was diagnosed with multiple sclerosis, and her husband nursed her for almost 30 years, managing his work around her care.
He was employed at Auckland Hospital's medical physics department, working on small engineering jobs and helping out in the anaesthesia department. With that background, when he moved into the veterinary field he was invited to make an anaesthetic machine for use on goats for embryo transplant.
He went on to design and create an anaesthetic ventilator for mechanical respiratory support, an integral part of all modern anaesthesia workstations. In 1994 he began producing his Ivent anaesthetic ventilator, making more than 1000 of the machines, renowned for their safety and reliability, and widely used throughout Australasia and Asia.
Dr Hyndman, originally from Kaiapoi, who now works in private and charity hospital practice in Christchurch, said anaesthesia machines used in New Zealand were about the size of four dishwashers, stacked two high and two wide. They were incredibly complex, totally electronic and cost about $250,000.
He had worked in developing countries, and was constantly frustrated by they level of equipment available, a "mish-mash" of second-hand machines donated from the West, often unreliable and unsafe. It was a tribute to the anaesthetists that they were able to use the equipment at all, he said, but staff lacked the knowledge to operate or repair it, so when something went wrong the machines were simply cast aside.
What was needed was a simple anaesthetic machine that was affordable, reliable and easily maintained and serviced.
Dr Hyndman met Mr Batistich at a conference about 12 years ago. Mr Batistich had also done voluntary work in Asia and the Pacific, and was similarly dismayed at what he had seen. They discussed an idea for a bullet-proof anaesthetic machine, simple to use and basic enough to be fixed in a hospital workshop if needed.
They began working on ideas, and over the next 10 years built four prototypes. The resulting Hyvan is a compact, inexpensive portable machine that can be used anywhere, even without electricity.
A fifth prototype is now being trialled, and they hope to start production in Christchurch in December.
Mr Batistich comes across as a down to earth, hard case son of a farmer from Kaitaia. Yet he is absolutely brilliant at thinking in practical terms, using No 8 wire Kiwi ingenuity, with high levels if bio-engineering expertise.
Dr Hyndman said his colleague reminded him of Burt Munro, the Invercargill motorbike racer and innovator who he had looked after when he was ill.
"He is exactly like Burt, working in his little workshop, making all these incredible things out of nothing. He is the original New Zealander," he said.
Mr Batistich has a great ability to think long and laterally, but those who know him well also know him to be a kind and compassionate man.
He still returns home to the Far North regularly, to visit his sister Shirley Vinac, brother Robert Paine and brother-in-law Frank Vinac at Cooper's Beach. The people of the Far North can be justly proud of the success of one of their own.