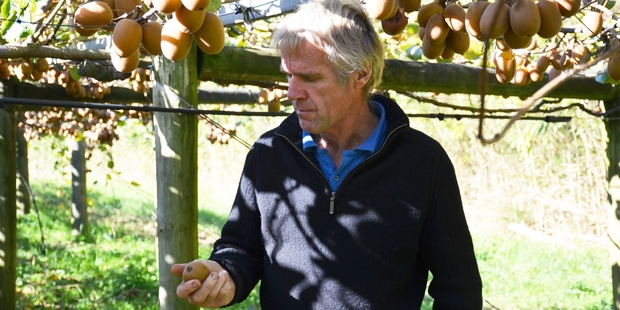 A Kerikeri orchardist is offering a $50,000 reward for information leading to the conviction of whoever was responsible for sabotaging his kiwifruit crop.
Kerry Farrand, owner of Farrand Orchards, said he had had to dump nearly 30,000 trays of gold kiwifruit after the insecticide Calypso was sprayed over 2.26ha in two orchards. With Zespri paying $8 a tray, he had lost $220,000. And he was vowing to find the culprit.
"Our greatest fear is that if the guilty party remains free, and is not brought to account, there will be nothing stopping them from doing it again to following years' crops, to us or any other orchardist," he said.
A test around mid-April had picked up excess residue levels, Mr Farrand saying he had no doubts that the fruit were contaminated by someone who knew the industry well and was qualified to use Calypso.
The fruit was so badly contaminated that it was legally not fit for human or animal consumption; the only use to which it could be put was as mulch.
"This has to be the work of someone who doesn't like me, to make me look like I don't know what I am doing. But I've been doing this for 36 years and have never come across a situation this bad," he added.
"A tractor hadn't been in there because in March my team picked and dropped little gold kiwifruit on the ground, which have not been disturbed. Therefore, whoever's been here did it with a knapsack spray. They know the industry, they know the system. This is threatening my livelihood, and I am taking it very seriously. This kind of behaviour cannot be allowed to be tolerated."
He had lodged a complaint with the police, who he said needed a witness or someone who the guilty party had spoken to about the sabotage to come forward and give evidence. Mr Farrand believed he knew who was responsible, saying he had plenty of circumstantial evidence but not the hard evidence that the police needed to lay charges.
Senior Constable Robert Drummond said investigations were ongoing, and he hoped the $50,000 reward would help lead to an arrest and conviction.
"We're dealing with a large amount of money he's lost as a result of this incident, and we're obliged to pursue his complaint," he said.
Mr Drummond added that the most appropriate charge, under the Crimes Act, would be contamination of food or crops, which carried a maximum penalty of 10 years' imprisonment.
A Zespri spokeswoman said fruit from Mr Farrand's orchards had failed multiple residue tests, recording many times over the allowed limit set by the government.
"We acknowledge the difficult circumstances for this grower," she added.
Any information can be given to Mr Farrand (phone (022) 391-8772, email kafarrand@gmail.com), or to Mr Drummond at the Kerikeri police station, phone (09) 407-9211.