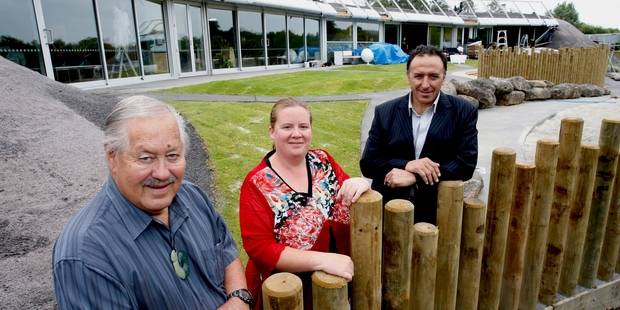 The Maori Party has paid a warm tribute to Ngati Hine Health Trust Emeritus Executive Robin John (Rob) Cooper, who passed away overnight on Monday.
Party co-leader Marama Fox described him as a much-loved mentor, a superb advocate, a masterful activist and a lifelong champion of kaupapa Maori.
"Rob was one of those distinguished ambassadors of hope that we all look to when the going gets tough," Ms Fox said.
"He appeared to be a mastermind of all things Maori. He had an impressive reputation in health, having pioneered the design and delivery of the Maori health provider sector since the days of the Health Funding Authority.
"For many years he chaired the Maori reference group for Housing New Zealand, and oversaw the development of social housing in Moerewa.
"And it was just a few years ago, in 2012, that he oversaw an internationally acclaimed early childhood education centre in Kawakawa.
Nothing was impossible for Rob."
Fellow co-leader Te Ururoa Flavell said Mr Cooper would be particularly remembered for his unique contribution at the advent of Whanau Ora, when he was selected for the Whanau Ora Taskforce in 2009, and in 2010 was appointed as the inaugural chair of the Whanau Ora Governance Group in 2010.
"His expertise and scholarly advice at the governance level saw him hold a significant presence in many fora, including the Waitemat DHB, the Auckland DHB, as chairperson of that board's Maori Health Committee, and as chief executive and Emeritus Executive of the Ngati Hine Health Trust," he said.
"He had a special place in the hearts of the National Council of Maori Nurses, and was instrumental in establishing the Whakapiki Ake student recruitment programme at the Faculty of Medical and Health Sciences, Maori and Pacific Health, at the University of Auckland.
"Rob's intellectual strength of character was evident at every hui he attended," he said.
"He formed part of a taskforce, along with George Kuru and Manuka Henare, who organised hui with Maori Catholic organisations, producing two reports, Whakamrama One and Whakamrama Two. These reports highlighted a distinctive Catholic view of Te Tiriti o Waitangi, based on the writings of the first Catholic bishop of New Zealand, Jean-Baptiste Pompallier (1836-58).
"In this, and in so many other ways, Rob Cooper made an illustrious impact on our nation-building project. Our heartfelt sympathies are extended to the whanau pani, and to his beloved Ngati Hine and Ngapuhi kin.
Legendary
Ngati Hine Health Trust chairperson Gwen Tepania-Palmer said Mr Cooper, who was named a Companion of the New Zealand Order of Merit last year for services to Maori health, education and development over the previous 30 years, had made a huge contribution to his people and his country.
"Rob's leadership is legendary, and the New Zealand health sector is a profoundly better place for his work in it over more than 20 years," she said.
"As the general manager Maori Health in the Northern Regional Health Authority and its successor, the Health Funding Authority, in the 1990s, Rob set the strategy for Maori health and development that became the benchmark for indigenous health development the world over.
"Maori health providers from Te Kao in the very Far North to the deepest reaches of southern New Zealand owe their existence to the vision, tenacity and fortitude of Rob Cooper, in his requiring of accountability for Maori health improvement from the highest levels of the public service and his resolute commitment to upholding Te Tiriti o Waitangi for the benefit of Maori, Pakeha and all citizens of our great nation.
"While he was too humble to ever make such comparisons, to us who knew him well Rob was in the mould of his illustrious tupuna Kawiti and Hongi Hika, and more recently Sir James Henare," Ms Tepania-Palmer added.
"He was a statesman, and diplomat, a deep thinker and towering intellect, a leader in battle and in peace, a man of the people and a cherished father and Koro. Rob was as at home around the boardroom tables of universities, district health boards and international institutions as he was on the paepae and around the wharekai tables of his home marae at Motatau.
"Our thoughts, prayers and aroha are with Rob's whanau, his sweetheart Judith, his children Mark, Chanda, Erana, their partners and his multitude of beloved mokopuna."
Mr Cooper was at his family home in Auckland before travelling to Motatau Marae yesterday, and would be interred at Takapuna urupaa.