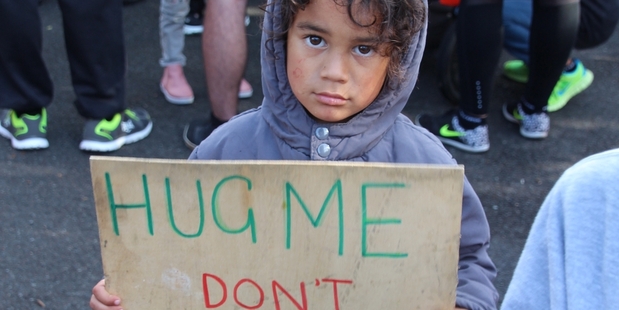 Kaikohe and Kaitaia will join communities around the country when they march for 'Justice for Moko' and an end to the murdering of children, on Monday when Tania Shailer and David William Haerewa will be sentenced in the High Court at Rotorua for the manslaughter of Moko Rangitoheriri.
Marchers will make their way to courthouses at 9am, 'Open the Curtains' in Kaitaia offering the added incentive of soup and fried bread. They have also ordered a marquee, in case the weather turns nasty, and will have seats for the elderly.
Karen Edwards said Kaikohe's contribution to Stand up Day NZ would leave from the old hotel site in Lower Broadway at 9am, proceeding to the courthouse.
The march would serve several purposes, she said, but they all essentially came back to preventing a repeat of last year, when "another" 13 children were murdered.
"This is an opportunity for New Zealand to finally come together and make a stand," Mrs Edwards said.
"We will be united as we speak up and say enough is enough. This has to stop. We are over excuses and blame. There are none. To harm a child is totally inexcusable, and it can't be blamed on your upbringing, your environment, the government or anything else. You and only you are ultimately responsible for your actions.
"As a country, we will not tolerate or accept child abuse. Our collective voice will be loud and clear."
It would also be about seeking justice for Moko Rangitoheriri (whose killers were originally charged with murder).
"Plea bargaining should never have happened. His death was murder. When a child is tortured day after day after day - that is intentional, and that is murder," she said.
A petition would be circulated on Monday, calling for a change to the plea bargain laws.
"We need consequences for actions. This leads to also needing tougher sentencing. We need law reform," Mrs Edwards said.
"One of the most important things that is happening around the country right now is that we are speaking up and creating a massive amount of public awareness," she added.
"We are taking a subject that has really been ignored because it was too sad and heart-breaking to address, so consequently, and sadly, we have almost enabled it.
"Now we are shaming it.
"This is the beginning of change. It has to start somewhere, and it has to start now. Children cannot stop child abuse. Adults can.
"On August 10, 2015, Moko Rangitoheriri's life tragically came to an end in the most brutal way imaginable. He was only three years old. [Tania Shailer and David William Haerewa] tortured him and inflicted horrific injuries. They murdered this wee boy. Their charges were plea-bargained from murder to manslaughter.
"Sadly, this little boy's death will become the catalyst to make change in New Zealand. Here is your chance to have your say."
Every effort would be made on Monday to avoid inconveniencing Kaikohe's business community, she added.
"We are asking marchers to park away from business entrances, in side streets, etc, to have consideration for businesses and their patrons, and maintain dignified and respectful behaviour. After all, this is a march against violence."