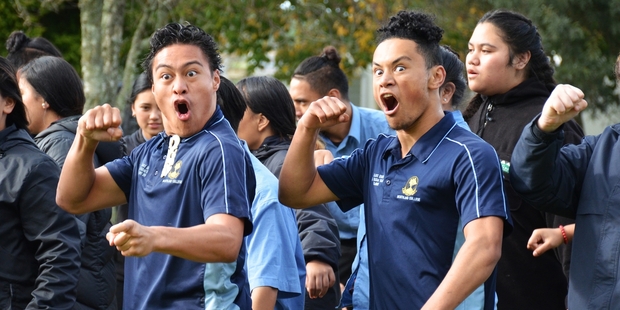 Their school is being pulled apart and put together again around them, but the $14 million rebuild of Northland College is not distracting the kapa haka party.
The students who make up Te Roopu Ara Whanui take every chance to practice, and did so again one lunchtime last week, under the watchful eye of tutor Beaumyn Wihongi.
The students have qualified for the national competition, after placing third in last year's regional event in Kaitaia. The secondary schools nationals will be held in Napier over July 25-29.
A party of 40 will travel, and will perform a total of seven items.
As well as practising the performances at every opportunity, the students are fundraising furiously. They earned $1000 by marshalling at the Paihia half-marathon, while at last report a Givealittle page had raised $220, and they were happy to do anything (within reason) that would help get them on their way. (Contact Northland College).
"Our kids need to raise $20,000, and currently they are just shy of $16,000," Tania Edwards said last week.
"We have been sponsored by Explore Paihia (the half-marathon), BDO Spicer, Te Hau Ora o Ngapuhi, Te Runanga-a-Iwi o Ngapuhi and Pub Charities."
The students have organised raffles, food stalls at the Ngapuhi Festival, outside Countdown and at Ohaeawai's Taiamai day and more, on top of what each member of the party has been asked to contribute.
"We participated in Te Tai Tokerau Festival this year, but our last competitive performance was at the regionals at Te Kura Kaupapa Maori o Te Rangi Aniwaniwa last year, where we placed third behind Aniwaniwa and Te Kura Kaupapa Maori o Rawhitiroa," Tania said, adding that the party would be performing at a school concert at the end of this month.