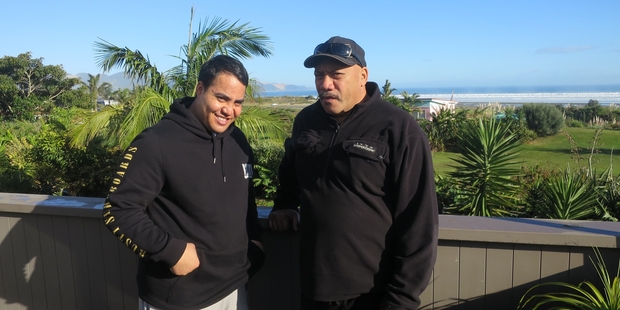 Rikki Nathan is a young man with everything to live for. Much-loved by his family and a huge circle of friends, he's a fighter. Twice he has successfully stared down cancer, but now he's facing the biggest battle of all.
A major fundraising campaign is now under way, with the aim of raising the $100,000 the Ahipara man needs for the specialised chemotherapy that offers the only hope he has of defeating his illness a third time.
Rikki, who fought non-Hodgkins lymphoma for three years from the age of nine, was diagnosed with an aggressive brain tumour early last year, at the age of 22. Major surgery, followed by radiation and chemotherapy, seemed to have been successful, but the tumour returned, requiring another bout of radiation treatment.
He was then told he had less than a year to live, and that the only possibility of increasing the odds lay with specialised chemotherapy treatment that would cost around $100,000.
Rikki, his family and friends are not about to concede defeat, however. Shane Brydon, father of Rikki's partner Arli, describes him as a courageous, positive, utterly inspirational young man who always has a smile on his face despite having had more than his fair share of tough times.
"Rikki has always been a talented sportsman with an infectious smile, always willing to help others and contribute his time when not battling this disease," he said.
Rikki himself is a man of few words, but he deeply misses his rugby. He's played for both Te Rarawa and Te Aupouri, and was Te Rarawa's forward of the year in 2014.
Last week he said he had been overwhelmed by the attention and support he was receiving, his father Syd saying the support given by the Far North sporting community had been amazing.
And there's more to come. The Nathan and Brydon families have set out to raise the money needed for further treatment.
"With your help, Rikki could give this one more shot," the families said in a statement released last week.
There will be many opportunities to give support, including a walkathon, a coast to coast walk, social events, T-shirts, quiz nights, a movie night and a dinner. As of yesterday a Givealittle page (www.givealittle.co.nz/cause/rikkinathan) had raised $21,250.
More will be raised at an ASB movie night on Thursday next week, where a $20 ticket will buy a seat at the movie Me Before You, hot soup and a bread roll (tickets available from the Kaitaia ASB), and an R18 dinner at Te Ahu on Saturday, July 23.
Tickets of $50 will cover a seafood and spit roast buffet and dessert, live music and DJ and an auction.
Tickets (no door sales) are available from Arli Brydon, Maureen Olsen and Vanice Baker or phone Syd Nathan on (027) 320-6469.
More raffles are on the way, along with a spinathon at Club Physical and a Relay for Rikki walkathon.
Contributions will also be accepted via the Givealittle page or BNZ account 02-0336-0026255-98.
Anyone who can help, including donating items for the auction, is also asked to contact Syd via cellphone or by emailing syd2001@xtra.co.nz.