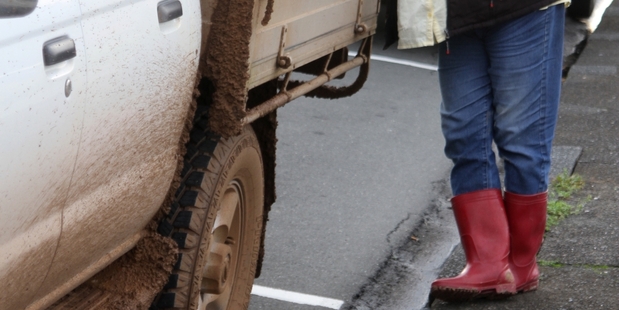 Kathleen Rudolph's car and Harley motorcycle stays in their garage at this time of year.
When she ventures forth it is only in her 4WD, thanks to the condition of the Parapara/Toatoa Road, inland from Taipa.
The problem, she said last week, was the "red muck" that the Far North District Council persisted in laying on the road. Why, she could not say. The material turned to slush that instantly coated vehicles when it was wet, and created clouds of dust when it was dry.
"It was supposed to be a trial," she said, "but they're still putting it on. It sticks to vehicles so badly that they have to be washed every time they're used. And it stains.
"We're a fair way back from the road so the dust doesn't get to us, but it covers a lot of houses, and obviously gets into their water tanks."
She had attended a meeting with council representatives a year ago, one of whom told residents to "just keep complaining," with the assurance that complaints would get a response, but Ms Rudolph had seen no sign of that.
Her vehicle was certainly covered in the stuff when she arrived in Kaitaia on Friday, although that had not been a bad day. It hadn't rained for a while, and wind had dried the surface considerably, but even so it had taken just four minutes to get in that condition.
"I'm not a moaner, but this is ridiculous," she added.
The council was perhaps not totally oblivious to the problem, but its remedy, if that's what it was, had not impressed residents either. A strip of metal, one lane wide, had been laid in the middle of the road, albeit only in some places, which she said had potentially made the road dangerous as well as unpleasant to drive on.
******
Far North District Council general manager - infrastructure and asset management Jacqui Robson said the council sought to provide motorists with the best possible driving conditions, within available resources, but adverse weather could sometimes make that difficult.
Ms Robson said she understood Ms Rudolph's concerns about the use of "red muck," known to the council as PS30, which worked well in creating a more cohesive road surface and reducing dust.
It needed dry weather to bond to the existing surface and to perform to its specifications, however.
"PS30 was applied to Ms Rudolph's road last November," she said.
"Unfortunately it rained shortly after the application, meaning the surface quickly lost its shape. Water was sitting in flat areas, thus producing potholes. The water was also tracking down wheel paths, rather than getting to the water tables.
"In early June the council's roading contractor, Fulton Hogan, graded the road back into shape with correct cross-falls, so the water would stay off the road. This reworking caused some of the clay to be brought to the top. Unfortunately, two or three days after Fulton Hogan had finished the reshaping works, it began to rain. This produced the film of mud on top of the road, and also some soft spots.
"Last week Fulton Hogan started laying maintenance metal on all affected areas. We are hopeful that this will reduce the problems with mud on the road, and provide a better driving surface."