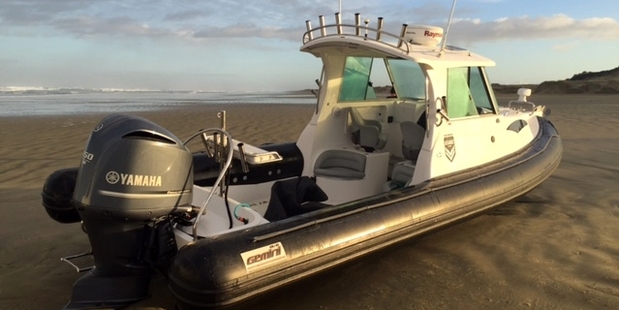 The seizure of almost half a tonne of methamphetamine in the Far North with a street value of $500 million, earned praise from Police Minister Judith Collins and Customs Minister Nicky Wagner for the community, the police and Customs.
The seizure was the result of locals witnessing suspicious behaviour, reporting it to the police and the police acting on it, Ms Collins said. (Initially the haul comprised 448kg, which was boosted to 494kg when more was found on Tuesday buried in dunes behind 90 Mile Beach, using a GPS found in one of the alleged offenders' vehicles).
"This was the largest seizure in New Zealand's history, and demonstrates outstanding investigative work by all involved. It will have an impact on the supply of methamphetamine, resulting in less crime and fewer victims," she said. "What we saw in the Far North was the community working in partnership with police to thwart criminal behaviour. I also pay credit to the excellent police work in tracking down these criminals.
Ms Wagner described the seizure as yet another example of great work and co-operation between police and Customs in the fight to destroy methamphetamine supply chains.
"I hope this seizure stands as an inspiration for those who have information about suspicious activities in our communities to report it to police, and play a role in making all our communities safer," she said.
Northland Police District Commander Superintendent Russell le Prou said his staff were buzzing, and so should the community be, after the methamphetamine was seized and three men arrested. He also gave credit to the people of Ahipara.
"We received notification of several cases of suspicious behaviour in the past few weeks, and that has allowed us to get to this point," he said.
Police had been alerted by Ahipara locals who had noticed the occupants of several vehicles acting suspiciously over the previous fortnight, trying to launch boats. Early on Sunday morning police found a boat abandoned near Hukatere, on 90 Mile Beach, with a number of mesh bags in the back of it.
They began searching for a Toyota Prado and a rental camper van, which had been linked to efforts to launch boats, and to offers of large sums of money in exchange for assistance. While police were in the act of recovering the boat the Prado drove past. The vehicle was stopped at the Kaitaia Golf Club, and two Auckland men were arrested.
Several hours later police stopped the camper van at Totara North, discovering what appeared to be multiple bags of methamphetamine. The 19-year-old driver and the camper van were taken to the Kaitaia police station, where they found multiple suitcases and bags. Inside were dozens of sealable plastic bags containing the drug.
Superintendent le Prou said he couldn't be too specific about the suspicious behaviour locals had noticed, but the fact that they were being asked, and paid, to help launch boats was an indication that something was amiss.
"There is a number of other things, which I don't want to give away, but what I would say is the great part about this is the community just kept adding to the picture about suspicious behaviour, and then it took a diligent sergeant to put this information together and say, 'There's a bit more to this.'
"And of course, finding an abandoned boat on 90 Mile Beach with some gear in it. Boats aren't normally abandoned like that. And then the Prado drives past, which is one of the vehicles we had associated with (the boat)."
Stopping the vehicle had led to "some pretty cool stuff." The seizure exceeded the total amount of methamphetamine seized in New Zealand last year (334kg).
"Wherever this methamphetamine was headed, it was going to cause harm, and it's thanks to the Kaitaia community who were not going to tolerate this, that we've managed to stop the harm from this massive haul," he added.
Police weren't ruling out the possibility that an international drug ring was involved, although as of Tuesday there was reportedly no evidence. It did appear that the haul had been imported, and those arrested had been charged with that offence. Police and Customs believe the meth had been retrieved from the water off 90 Mile Beach, and a joint investigation is under way into that aspect. Customs investigations manager Maurice O'Brien said his organisation would continue to work with police to identify everyone involved and obtain all the relevant evidence.
Meanwhile the police are still keen to hear from anyone who may have noticed suspicious activity involving a Toyota Prado with a boat or travelling with a camper van in the Far North over the past two weeks. Contact the Kaitaia police station on (09) 408-6500 or, anonymously, Crimestoppers on 0800 555-111.