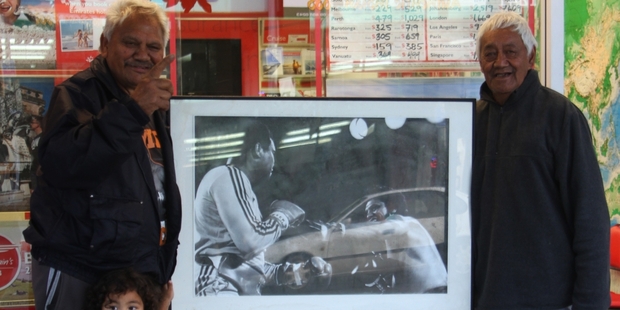 Awanui man Valley Taylor flew to Louisville, Kentucky, on Friday, to say his own farewell to the man widely regarded as the greatest boxer, perhaps the greatest athlete, of all time.
Mr Taylor made plans earlier in the week to attend the funeral of Muhammad Ali, but on Thursday those plans began to go awry. The earliest flights would not allow him to reach Kentucky until some hours after the funeral, but late in the day he decided to go anyway.
While he would miss the funeral he would go to the cemetery to pay his respects with karakia for a man who had given him a very special memory 37 years before.
Mr Taylor went one memorable round with Ali in 1979, and has the photo to prove it. He had promised "The Greatest" that one day he'd visit the champion at his home in Louisville, but despite "catching him with a good one" in the ring, his fear of flying prevented him from keeping that promise.
A keen boxer, he was at Western Springs in 1979 when Ali staged an exhibition, going a round or two with several New Zealand heavyweights. He then invited any Maori in the crowd to have a turn.
"He asked me to give him a couple of good bangs, and I caught him with a really good one - though he did stick his jaw out for me to hit. I then saw this mean stare on his face - a bit like the Maori pukana but worse - and I didn't want to hang around, so I ran for the ropes to get out," Mr Taylor recalled.
"Ali had fast feet, but I tell you my feet were faster that day as I ran for the ropes. I didn't want to see what he was going to do to me next. It was the greatest thing that ever happened to me, apart from meeting my wife, and I'll never ever forget it.
"I didn't get the Ali shuffle that day, I got the Ali stare, and that was enough for me. I went because I wanted to shake Ali's hand, but I didn't think I'd end up getting that close."
Mr Taylor thinks he is the only Maori to have gone a round with Ali. And they had stayed in touch over the years, but his aviophobia - fear of flying - prevented him from visiting. Until now.
At that stage he didn't have a ticket to attend the funeral service, saying if he couldn't get one he would join the hundreds of thousands expected to line the route. He said on Thursday that he would go to the cemetery, and offer karakia.
"I had no hesitation getting in the ring with Ali, but I'm terrified of flying. I'm putting that fear aside to pay my respects to a great man - the greatest ever. I wouldn't do it for anybody else. It's just because of him, though I'll go to the doctor's to get something to help me."
He also collected medication to ward off deep vein thrombosis on his flight to the States and home again.
Meanwhile he was fundraising to help pay for the flights. Former New Zealand heavyweight champion Charlie Dunn had donated $1500, and anyone else who was keen to help was invited to make their contribution via the ANZ account 11-5360-0228896-50, under the account name K Rivers.