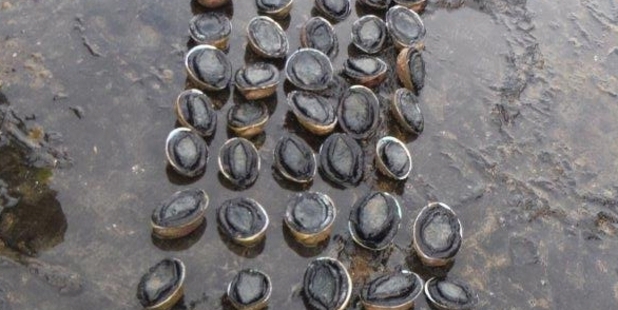 A customary permit was no defence for 39-year-old Ahipara sickness beneficiary Michael Jake Pene in the Kaitaia District Court last week.
Pene admitted possessing excess and undersized paua, was convicted and fined $1250 and $250 respectively, with costs of $130. Judge Greg Davis also ordered the forfeiture of a 1993 Mitsubishi Pajero, along with Pene's snorkel, fins, wet suit, boots, dive mask, weight belt and catch bag.
If the Pajero was owned by another party it would be up to that person to discuss the options for recovering it with the Ministry for Primary Industries, Judge Davis said.
The court heard that Pene was found, with another person, in the area known as Blue House, near Tauroa (Reef Point), west of Ahipara. He showed Fisheries officers a customary permit issued by Wikitana Popata, on behalf of Oturu Marae, which provided for the taking of 90 paua with a minimum size of 115mm, for a birthday.
The defendant's catch bag contained 133 paua, of which 60 were smaller than 115mm. Ten were over the regulatory minimum size of 125mm, and one was unmeasurable. The smallest measured 90mm.
Pene told the Fisheries officers that he had taken all the paua, adding that he knew the limits set out in the permit but had not measured or counted his catch.
Neither Pene nor the other person were named on the permit.
Counsel Richard Parangi said his client - whose history included "nothing relevant" over the last 20 years - had not thought his catch was anywhere near what the permit allowed for, but he had not counted the paua until it was too late.
Ministry for Primary Industries prosecutor Angus Wood told the court that breaching the customary permit rendered it invalid, however. Pene had been legally entitled to take 10 paua per day, as was every other person, and only 10 of the 133 were bigger than the legal minimum.
This sort of offending was rife at Ahipara, he said, aggravating features including that a customary permit had been abused.
Mr Parangi said his client accepted that he had not been named on the permit, but thought it had covered him.
"We talk about the gifts of Tangaroa being a taonga, but it is our people who are damaging this taonga as much as anyone else," Judge Davis said.
"Paua are becoming scarcer and scarcer by the day.
"The prospects of my people getting a feed of paua is dwindling, literally by the day, and it is the court's role to ensure that this taonga is here for future generations."
*An earlier version of this story had some paua measurements incorrect.