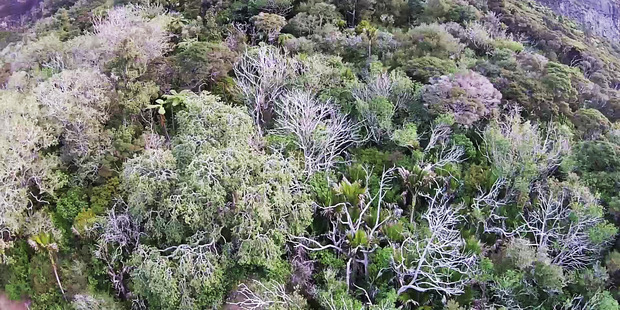 Northland's top 20 native forests are in dire need of comprehensive pest control.
Eight months ago Forest & Bird released drone footage that exposed dying ancient native trees in Russell Forest and at Whangaroa. They give a snapshot of what's happening elsewhere too. We have given these short films to hapu to be used as evidence in Treaty negotiations.
If any Treaty settlement does not include well thought out provisions around pest control, then hapu will inherit the debt of collapsing native forests, which will make the situation more difficult to turn around. A situation not of Maori making.
At the same time, Forest & Bird has calculated that DOC in Northland needs an extra $10-20 million over 10 years. Instead this year's Budget seems to indicate that DOC will not be getting any of the additional staff or resources it so desperately needs, and may well be getting less. Bad news for the whole country, not just Northland.
The combined size of Northland's top 20 forests equals the size of a small national park in the South Island, and includes the two remaining areas of unlogged kauri forests in the world.
Most of these northern native forests have been neglected in the decades since the region was invaded by possums in the 1960s, and most are now in freefall collapse.
But it's not the possums alone that are the problem. It is their impacts combined with rats, stoats, ferrets, weasels and feral cats. The forest and wildlife are under attack day and night, from the canopy of trees to kiwi burrows beneath their roots.
Overall there has been too little pest control for too long, and our remaining native forests are dying. Only pest control that tackles all the pests at once can turn the situation around.
We are lucky that last summer was wet. Had there been another drought, more puriri, rata, totara, pohutukawa and many other native species in areas of little or no pest control would have died.
However, since spring a large number of native plants across Northland, including rewarewa, tanekaha, cabbage trees, flax, kahikatea and hinau have had a massive flowering and fruiting season. This extra food, that used to feed native birds, bats and bugs, is now feeding a plague of possums and rats that go on to kill the birds and trees.
Already community projects in Northland have killed more than 113,000 predators in the last three years alone, and the exceptional project to save Warawara Forest offers many rays of light. But these great efforts are not nearly enough to maintain the majority of Northland's forests and the species they support. Local groups are working hard at controlling pests, but they are unable to do the job on their own. Secure long-term funding is the key to success.
We have a small window of opportunity, but it is possible to completely turn the situation around. In 10 years' time the ancient trees that are now dying can be bought back to life, and native birdlife can recover to the point where there could again be flocks of 100 kukupa across the North, and we could have re-introduced many species that have become extinct locally.
Human beings have caused these many problems, and we are also key to the solutions. The key is to find the common ground and work together.