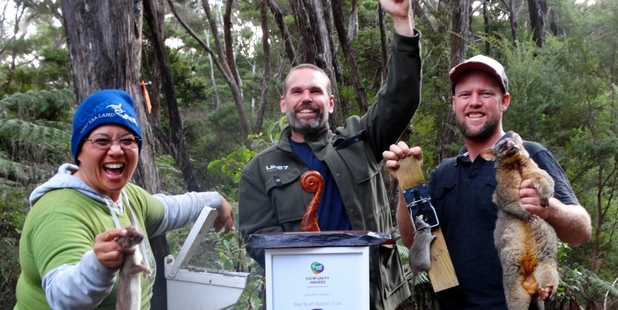 Paihia's Bay Bush Action Trust won the supreme 2016 Trustpower Far North District Community Award in Kerikeri on Thursday night.
Craig Salmon, who with Stella Kake, accepted the award, described the accolade as "amazing".
"We wanted to be a group that did something to make a difference," he said, and had given a commitment that no donations would be spent on administration, every dollar going towards ridding the local environment of pests and predators.
"It is the word 'action' that really drives us, and I am just a tiny part of that," he said.
Mr Salmon paid particular tribute to Ms Kake, "a force to be reckoned with", who made a "massive, massive" contribution to the organisation, and to Brad Windust, who could not be at the ceremony but was the man with the vision and experience, and was the organisation's key driver.
"In a sense all of us here tonight serve our communities. We all really want to see change," he said.
Ms Kake said she was blessed to be part of Bay Bush Action, which had made her a better person.
"I am overwhelmed by the spirit I feel in this room this evening," she said.
Bay Bush Action received a framed certificate, a trophy and $1500, and will represent the Far North at the 2016 Trustpower National Community Awards in Rotorua in March next year, Trustpower community relations representative Emily Beaton saying the trust would do a fantastic job of representing their district on the national stage.
"These volunteers are walking the talk and getting stuck in to make a real difference to the wildlife and biodiversity in their area," she said.
"They are connecting the community with their environment, and showing everyone involved that they too can be the protectors of this beautiful slice of New Zealand."
The other winners were: Youth spirit - Tim Richardson, Springbank School; heritage and environment - Whakaangi Landcare Trust; health and wellbeing - Far North SPCA; arts and culture Ohaeawai Taiamai Residents' Association; sports and leisure - Taipa Sailing Club; education and child/youth development - Bay of Islands Coastguard.
See Thursday's Age for more.