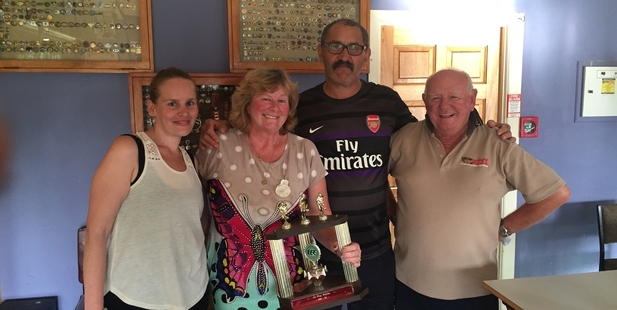 As a newbie on the Mid North bowls scene, Sarah Pattison teamed up with the veteran local pairing of Karen and Jerry Morunga to win the Le Roy Triples in Kaikohe over the weekend of May 14 and 15.
A report from the annual open mixed triples tournament said the event attracted teams representing the Kensington, Kaeo, Waitangi, Okaihau, Kawakawa, Opononi, Far North RSA, Cooper's Beach and host bowling clubs.
"The Le Roy family resided next door to the bowling club for years with both Dave and Rona dedicated members. Now Graeme, along with sisters Nancy, Christine, Val and Shirley, have offered to continue their sponsorship for the club with a renewed focus for the event being placed on having younger players and newer members given the opportunity to combine with the more experienced ilk."
With perfect weather and very close games, six teams recorded three wins to qualify, while the Morungas with Pattison were the only team to return four wins, claiming the Le Roy trophy outright. Results were Karen and Gerry Morunga with Sarah Pattison four wins, 21 ends, 39 points, first, Graeme Gallant, Sally Sterling and Allen Wheller (Kensington) 3, 22, 44, second, Richie Naera, Brent Colley and Lyn Faithfull (Opononi) 3, 20, 28, third.
Organisers thanked the sponsors, and all the players who came to support this long running event. Club members were also acknowledged for their support throughout the weekend.
COMING UP: The next event at Kaikohe is the Percy Leigh Mixed Triples on Monday, June 6, with a 9.30am start, while on Sunday, June 19, the Harris Cup mixed fours (minimum of one female player per team) will be contested. Also, the Te Taitokerau Maori Bowling Association is holding a rohe challenge tournament on Saturday, June 4 at Kaikohe for the late Fred Bristowe taonga with the challenge covering north, south, west, east of the Taitokerau regions. More information after a meeting this week.
With sadness the news was received of the passing of a local bowling stalwart, Les Still, who dedicated his time and work as president and treasurer of the organisation for the betterment of Maori bowls within the Taitokerau region.