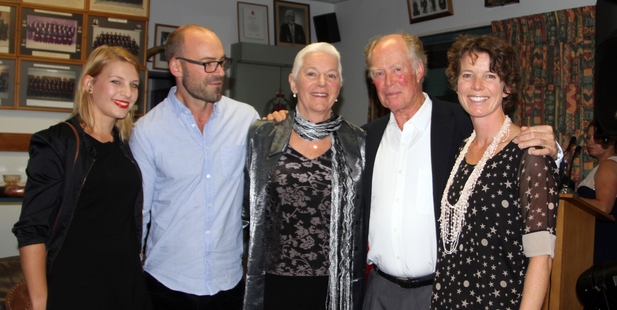 Peter Dryburgh, who succeeded Dr Denis Tree as Kaitaia Hospital's surgeon superintendent in 1980, was reportedly a little non-plussed by his invitation to a farewell in Kaitaia on Saturday night.
His main concern appeared to be that no one would turn up.
Turn up they did, and to a man (and woman) heaped praise upon the man who for 36 years had played a leading role in the very Far North's health service.
"You have given wonderful service to this community," Mayor John carter said.
"There is no question that it is because of your leadership that we have what we have now, in the Far North and indeed in Northland. You are one of New Zealand's decent blokes, a good bugger, and it has been a pleasure and an honour to know you.
"We have been blessed to to have you and your family among us."
Northland DHB CEO Nick Chamberlain and Northland DHB district hospitals general manager Sam Bartrum were unable to be there but paid tribute from a distance, assuring Mr Dryburgh that his commitment to and passion for serving his community had not gone unnoticed.
His legacy would continue through the people he had worked with and in whom he had instilled his principles.
Kaitaia Hospital operations manager Neta Smith, who spent many years working with Mr Dryburgh in theatre, said he had led an impressive team, including GP, obstetrician and anaesthetist Dr Tom Young, part-time medical officer Dr Mike Lomb, doctors Walter and Elizabeth Stein. A number of other South African-trained doctors had also taken up postings in Kaitaia upon their arrival in New Zealand, several of them - Douglas Mearns, John Bradley, Ian Smit and Cecil Williams - remaining there.
The workshop staff had played an integral role in the hospital's functioning under Mr Dryburgh's leadership, even manufacturing instruments he needed but were beyond the budget, while he had performed an outstanding range of surgical procedures, many of which were now provided by specialists.
Ms Smith recalled a 17-hour day in theatre, completing a long list of procedures after which "the emergencies just kept coming". He had always ensured that everyone who needed surgery received it, and visited his patients after surgery before he went home.
He had also led the defence of the hospital's services against plans for a reduction to super clinic status (from 1995 to 2002). The battle had ultimately been lost, at least in terms of 24-hour surgical services, but the hospital had gained a $12 million rebuild.
And, a man of many talents, he had even performed as lead singer in a Rastafarian band at a hospital Christmas function.
Ms Smith also thanked Mrs Dryburgh and their children Jonny, Tania and Mark for allowing their husband and father to do all that he had done.
Cr Sarah Clarke, clinical head at Kaitaia Hospital, said Mr Dryburgh had always put his patients and their families first.
He had also always been available to teach and to share his knowledge and experience, which had enabled many patients to remain in Kaitaia rather than being transferred to Whangarei.
Whangarei surgeon Dr John Lengyal described the quality and value of Mr Dryburgh's work as exemplary, while Switzer Residential Care general manager Jackie Simkins paid tribute to his contribution to that organisation as a member of the trust board.
Claud Switzer, whose bequest established the home, had been very specific in requesting that the trustees be local people of good standing, she said, and she had worked alongside some exceptional people in the 18 years that she had been there, including Millie Srhoj, Tom Young, Lyn Quarrie, Clive Patterson, Eddie Aickin and Peter Dryburgh.
"It is nice to have the opportunity to thank Peter and all the others for their gift of community citizenship," she said.
"Leadership requires vision, courage, integrity, humility, and the ability to take people with them, and you have all those qualities, with the support of a lovely woman," she added.
Retired surgeon Bill Sugrue described Mr Dryburgh as an icon in the North, a man of tenacity and courage.
"He has been a fighter for you," he told the gathering.
"Everyone I have heard speak of him has done so with nothing but reverence."