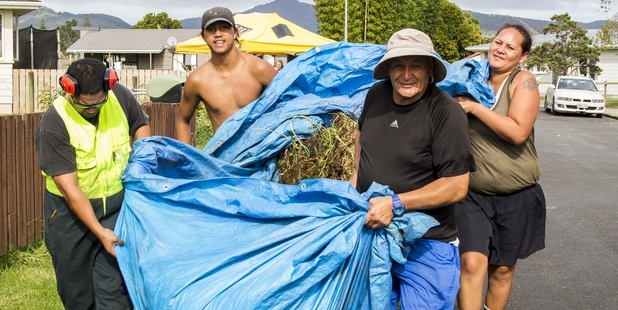 Kaitaia's Open the Curtains initiative has completed its first community working bee.
Residents of Masters Street (off Bonnetts Road) joined the OTC crew who arrived to help mow lawns, clear away rubbish and generally brighten up the street.
The day began a little quietly, with just three of the nine households getting into mowing one lawn, raking and piling up the grass, then moving on to the next house and then the next, but as the hot day wore on and energy levels drained others emerged with their wheelbarrows and whatever else they had to help.
While all that was going on OTC's Moana Erickson was under the MANA marquee, cooking fried bread and the seafood chowder provided by one resident. At lunchtime the workers gathered in the middle of the street for a feed and a catch up with neighbours.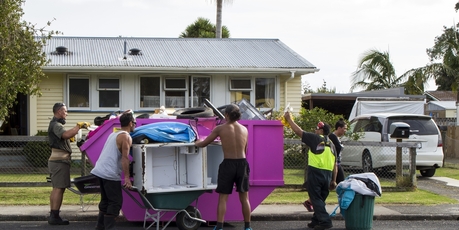 "I've been here nine years and hardly talked to my neighbours," one resident said.
"We're a good street, but we all just keep to ourselves. This event has been good, and helps me get to know who they are."
Another was delighted to finally have her metre-high lawn mowed.
"When I first moved in we had no mower and no money to hire one, so the lawn just got longer and longer. Now hopefully I can maintain it," she said.
Meanwhile a skip bin was filled within an hour, neighbours helping clear each other's rubbish then gathering under the marquee to converse and connect.
"It's not a big deal really," Moana said.
"I'd been round to everyone's houses, and it just seemed that with a little bit of help we could make people's life a little better. So I went to Northland Waste, who gave us a skip bin free, Kaitaia Hire stumped up the fuel for the mowers and weed-eater, I got our crew together with the locals and away we went."
"There's other stuff people want help with too, like poor lighting, broken footpaths, rats and leaking water mains, which directly affect the health and safety of the community," OTC community initiatives manager Jason Reti said.
"We're planning to do a walk around with Far North District Council CEO Colin Dale and some of his staff in the next couple of weeks to see how we can work together to get them fixed up too."
These were just little steps, Moana said, "but hopefully they'll lead to everyone talking with one another and working together to make Kaitaia a better place."