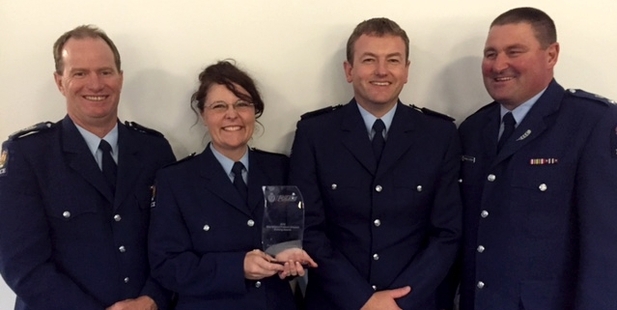 Police in Kaitaia have won high praise, and an award, for their collaborative approach to using CCTV to monitor their town, thereby reducing crime dramatically.
Te Hiku o Te Ika Neighbourhood Police Team collected a Problem-Orientated Police (POP) award in Wellington last week for basing a trust and community-owned security organisation (Total Security Management) in the police station.
In partnership with the Ministry of Social Development and the Far North Safer Community Council, the initiative has so far created nine local jobs for people who were considered long-term unemployed, with the prospect of more to come.
Total Security Management monitors the CCTV camera system and deploys patrols to any identified risk areas, station O/C Senior Sergeant Geoff Ryan saying there had been an immediate, and impressive, impact.
"There has been 60 per cent reduction in commercial burglaries. Forty fewer businesses were broken into in the first six months of the initiative's launch in August 2015 last year," he said, adding that the "success story" of crime reduction and putting local people into work had been a fantastic journey.
"These people have upskilled, they're contributing and developing a sense of pride in keeping their community safe," he said.
"We're not there yet though. We still need more community support if this extraordinary success is to be maintained."
Kaitaia won the award for excellence in achieving collective impact (and was in the running for the supreme award, which went to Canterbury), after a presentation to an independent panel of judges and 150 people (including the Commissioner and Minister of Police) at Westpac Trust stadium.
"Geoff, Rowie (Jones) and Jeff (Phillipps) did the district proud, and kept us in the national limelight," District Commander Superintendent Russell le Prou said.
"From idea to delivery it took a lot of work, heartache and communication, but through their perseverance and commitment they delivered a great community initiative. Congratulations guys - it was an innovative, excellent initiative, delivering great community engagement and resulted in reducing CBD burglaries and issues."
Deputy chief executive strategy for the NZ Police, Mark Evans, said the POP awards were a great opportunity to celebrate the work of police staff.
"All involved should be very proud of the work they have done to reduce harm and victimisation in their communities," he said.