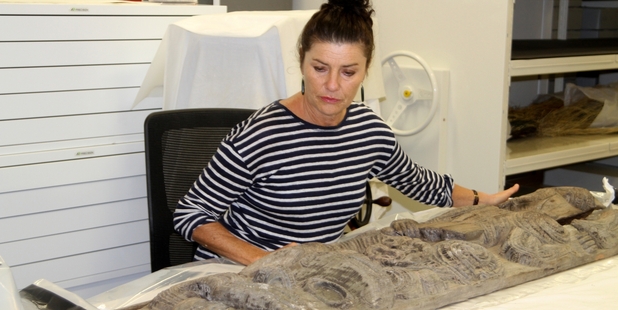 Two pou, one of them in two pieces, that were found in a shed in Okahu Road, Kaitaia, earlier this year (Historic discovery in Far North shed, March 24), are now undergoing expert examination by conservator Rose Evans, on behalf of the Ministry for Culture and Heritage.
Ms Evans began her examination at Te Ahu Heritage Museum and Archives in Kaitaia this week, but will likely take the carvings to her laboratory, Objectlab, in Auckland to complete the work and draw up a proposal for their stabilisation and preservation for the ministry.
She had yet to reach anything approaching firm conclusions on Tuesday, but suspected that the pou might not be especially ancient. They clearly displayed nail holes, and the remains of nails, although those could have been added long after carving - the pou also featured traditional holes for lashings. They had also been adorned with lead paint at some stage.
The paint had been removed, no doubt with significant effort, she said, but vestiges remained. They had also been cleaned of moss and lichen at some point, "so someone has been caring for them".
There was evidence of borer and other damage, including some signs of rot, although they generally appeared to be in good condition. They had been given a coating of linseed oil at some point, a process that Ms Evans had no doubt had been undertaken with the best of intentions but which she would rather not have seen.
She also believed they showed evidence of work with steel tools.
Te Ahu Museum manager/curator Kaaren Mitcalfe said the process now, apart from preserving the pou, would include looking for the original owners, or which museum they should finally go to. There was some suggestion that they might have come from the east coast.
"They've certainly had an interesting time, and now they're getting a new lease on life," she said.
The restoration process would not be aimed at making them look new though. They were obviously old, although no one knew how old, and their fundamental appearance wasn't going to change.
The pou were certainly in good hands, Ms Mitcalfe said. Ms Evans had an international reputation as a museum consultant and conservator, and had worked with a wide range of institutions and iwi. Her more than 25 years' experience included working with Te Papa, the Australian War Memorial Museum and the British Museum.
While in Kaitaia she was also assessing the local museum's collection in storage, to determine how best it might be cared for.
Meanwhile Te Runanga o Te Rarawa chairman Haami Piripi said at the time of the pous' discovery that they might have been burned as rubbish but for Barry Wiki and Mahue Tarawa.
"They knew the people clearing out the shed, and knew that they didn't recognise their value. I think it was sitting there in a rubbish pile to be burnt," he said.
"I said to Mahue and Barry, 'You don't find these things, these things find you'.
"We think it is a pre-missionary carving style from the mid-1700s, because of the age of the timber and the detail in the whakairo," he added.
"If this is an early example of carvings, it is fantastic for us ... [They are] quite consistent with our style. I think the wood is kauri, so it may be from the North and significant to Ngapuhi."
It was not clear what the pou had been carved with. They may have been initially been carved with stone, with steel tools used at some later time.
"I feel so fortunate to be involved in this. It is so important to our cultural and artistic history of the North," Mr Piripi said. "My worst fear is that they are from somewhere else and were brought here."