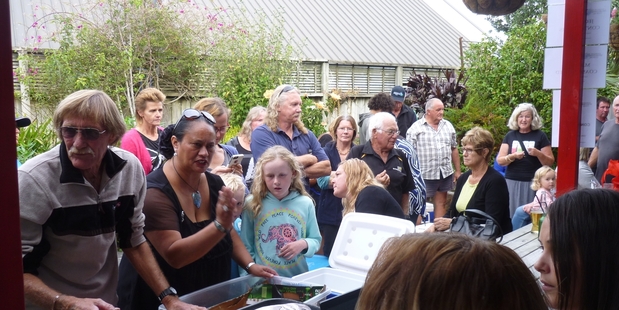 The fish were reportedly everywhere for the inaugural Ladies Fishing Competition hosted by the Doubtless Bay Sportfishing Club and Taipa Tavern earlier this month.
Organisers reported a pleasing turnout of 50 ladies and 15 juniors (aged 12 and under) for the inaugural event on Sunday, April 24, in beautiful conditions which saw a remarkable tally of 172 specimens produced at the weigh-in, with the highlight a 100kg marlin.
The sheer number meant the weigh-in went on far longer than anticipated, event spokesperson Frances Clarke said, thanking all the anglers for their patience.
"Atmosphere was great and everyone had a good time. Every year is different. Fantastic work, ladies!"
The weigh-in was followed by a meal, then prize giving before a DJ-led entertainment rounded off.
On behalf of organisers, Fruitcake said the efforts of everyone who helped with the competition, and all the sponsors who contributed prizes, were greatly appreciated.
Results from the Ladies Fishing Competition based at the Taipa Tavern on April 24 were: JUNIORS, 32 fish weighed in, kahawai: Ayla-Rose Narby-Nimeti 2.025kg 1, Tamara Hesketh 1.745kg 2, Charlotte Lambeth 1.735kg 3; other species: Therese Birch 2.985kg trevally 1; snapper: Therese Birch 2.250kg, 1, Te Aroha Hesketh 1.585kg 2, Jade 1.475kg 3. Also, average weight: Hayley Roberts; best Hat: Jessica Leifting.
SENIORS, 140 fish, kahawai: Zinnia Smith 2.645kg 1, Makere Ripikoi 2.055kg 2, Diane Miskall n/a 3; other species: Danielle Hamilton 100kg marlin; snapper: Rynna Beazley 8.850kg 1, Tania Yates 6.675kg 2, T Yates 6.565 3. Also, average weight: Adrienne Murray, best hat: Susan from Waipu, and best poem: Katie O'Riley Kirk.