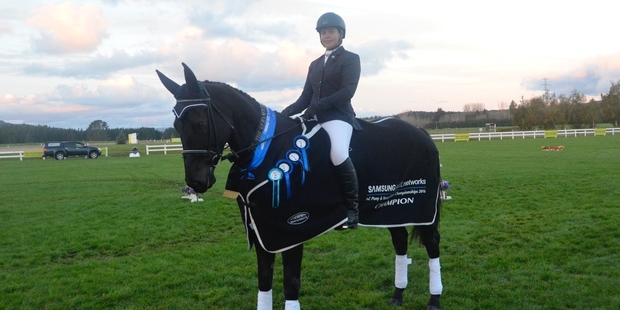 As the only Far North rider in the Northland team which made the long trek to Taupo to contest the 2016 NZ Pony and Young Rider Dressage Championship earlier this month, Rebecca Donovan is hoping her and her teammates' results will inspire other local youngsters to take up the sport.
Against the odds, Northland won the inaugural Area Young Rider Teams title in convincing fashion over Taranaki by 100 points to 88, while the riders also all had great success at an individual level.
This included Rebecca Donovan riding Antoinette (Kaitaia) who won the Level 3 Young Rider Champion title and was also awarded the Hanoverian Sash for overall Level 1-3. Mihi Shepherd riding Hot Chocolate MH (from Whangarei, granddaughter of well-known Kaitaia equestrian couple, Robin and Gina Shepherd) finished all four of her Level 4 tests unbeaten to claim the Level 4 Young Rider Champion title.
Sarah Scott on Thumbalina claimed the Level 3 Pony champion title, and Hannah Underwood on HL Loany Boy was named Reserve Young Rider Champion Level 1 and also rode for the North Island team which won the York Corporation Inter-Island Team Challenge over the South Island.
Coached by Kaye Ahsam, Rebecca Donovan said the results will serve as a fillip for dressage in the province by showing top results were well within reach, but the sport could do with some up and coming riders.
The Kaitaia College student also gave a huge thanks to the Mangonui Pony Club for their support.
-The Northland Young Rider Dressage Team was competing at the 2016 Samsung/GTL Networks NZ Pony and Young Rider Championships.
Some 170 horse and rider combinations from Kaitaia to Dunedin competed in the two-day championships for riders under 21 years of age, which were held at the Fibre Fresh National Equestrian Centre at Taupo from April 23-24.
There were 17 teams from across the country, including the South Island whose riders took three days travelling to get to Taupo.
Any province entering a team must have four riders. Waikato entered six teams, while Auckland was represented by four teams at the event.