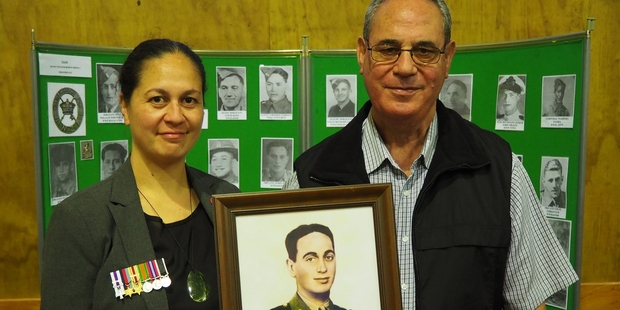 The granddaughter of a Far North war hero says she is proud and humbled by her granddad's starring role in an Anzac exhibition honouring Kaeo's old soldiers.
William Porter, better known as Ben, only enlisted by chance, but soon rose to the rank of major in charge of A Company of the 28th Maori Battalion. His story, and those of other Northland servicemen and their families, was told in an exhibition that opened in the Whangaroa Community Hall on Friday evening and ran through to Anzac Day.
Melissa Peehikuru, who now lives in Auckland, said she only really found out about her grandfather's wartime exploits a few years after he passed away, when she was researching a school project as a 16-year-old.
"Growing up, he was just granddad. We didn't talk about the war - we knew about it but it wasn't dinner talk," she said.
"I'm proud and honoured to share his legacy with everybody else. It's not just our family, it's also his brothers in arms.
Most off them were his cousins."
Major Porter's son Jim, Mrs Peehikuru's father, who provided many of the photos and taonga in the exhibition, also felt humbled, proud and honoured, saying his father, the quietly spoken son of a clergyman, only talked about the war during A Company reunions.
The exhibition, and other events around Kaeo over the weekend, was organised by the Whangaroa Armed Services Commemoration Committee, chairman Daniel Kaio saying the aim had been to acknowledge and celebrate Major Porter, as well as remembering all Whangaroa's fallen.
"Kaeo is a town that sent a lot of its young men to World War I and II. It also has a long-standing tradition with its RSA, which is one of the oldest in the country," he said.
The community had supported the exhibition "100 per cent." Kaeo school pupils, for example, had made the metal poppies that decorated the entrance, and gardening enthusiasts had prepared planter boxes so poppies bloomed at just the right time.
Kaumatua Chris Atama, of Kaeo, had heard the korero about his relative.
"But seeing it all here, as written words around the room, this is a huge thing for us."
The idea for the exhibition came from committee member Alistair Kay, who spotted Major Porter's grave at Matangirau cemetery, at Whangaroa, and was inspired to find out more about the local man who had risen to such a high rank.
More than 100 people attended the exhibition opening, including whanau, kaumatua and kuia, clergy, deputy Mayor Tania McInnes and students of the Whangarei-based Leadership Academy of A Company.
Major Porter was born at Taumarere, near Kawakawa, in 1915. He was an only son, so his parents didn't want him to go to war, but the then taxi driver was talked into sitting the medical after dropping off three friends who were enlisting. He was soon on a ship with the other Ngapuhi of A Company (Ngapuhi) on his way to Europe.
He was injured in Crete before heading to North Africa, where in 1942 he was twice awarded the Military Cross, for fending off a German counter-attack at the Battle of Gazala, in Libya, and for inspired leadership at El Mrier, in Egypt, during the Battle of Minqar Qaim. His company then swept across North Africa; he was wounded and invalided home in 1943.
He returned to Kaeo, where he and his wife Moira had a farm, ran a shop and raised six children. He died in 1998, aged 83.