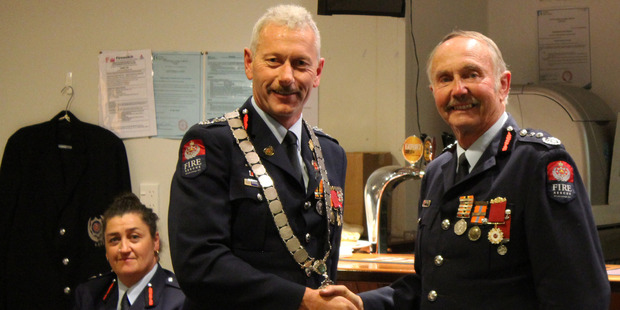 In the past 50 years the Kaeo Fire Brigade has been called out 2757 times - and Lindsay Murray has been there for 97 per cent of those fires, crashes and medical emergencies.
For a 21-year period he had a 100 per cent attendance record for call-outs and training nights, responding at all times of day and night, saving lives, homes and the odd pub, and witnessing tragedies.
He was appointed Chief Fire Officer in 1971, a post he has held for much of the past 45 years.
Mr Murray's extraordinary record was honoured when he was presented with a 50-year Gold Star in a function at the Kaeo Rugby Club, attended by friends, family and Fire Service personnel from as far away as Otago.
Now aged 73, he joined the brigade on December 14, 1965, seven years after it was founded.
His first call-out was a chimney fire near Kaeo Hospital. Only three people could fit in the Landrover that served as a fire engine in those days, so he had to go in his 1937 Ford 10.
He recounted the pubs lost to fire (such as Kaeo's White Swan) and the pubs they'd saved (Whangaroa's Marlin Hotel).
He also recalled the greatest tragedy, a house fire that claimed the lives of three children at Matauri Bay in 1997. Former deputy CFO Sheryl Phillips read a police officer's letter about how he and Mr Murray had gathered the children's remains and the huge tangi that followed.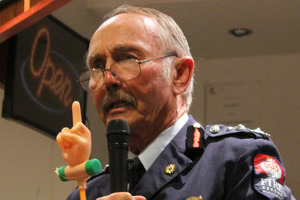 The greatest satisfaction had come from "good saves," such as the Marlin and the dairy and butcher's in Kaeo.
He had stayed because others looked to him to give the brigade stability at times of high turnover.
He enjoyed helping other people, and being a firefighter was one way of doing that, he said.
Event MC Wipari Henwood, deputy fire manager for the Far North, said he hadn't been born when Mr Murray joined the Fire Service, and he had served all 50 years in Kaeo.
"That's an incredible achievement," he said.
The medal was pinned on Mr Murray's tunic by United Fire Brigades' Association president Russell Anderson, from Alexandra, who spoke of the sacrifices Mr Murray and his family, particularly his wife Kossleen, had made over the last 50 years.
The siren rarely sounded at a convenient time, and the incidents the volunteers were called to were often difficult and unpleasant.
Kaeo senior station officer Les Jackson spoke of Mr Murray's "absolute" commitment, and not just to emergency call-outs. He and his wife took part in every brigade function, and always stayed to the end to help clean up.
"Lindsay, you made a difference," Kaitaia CFO and volunteer support officer Colin Kitchen said.
Mr Murray taught at Kaeo Primary School for 38 years.
After retiring from teaching he was hired by the Fire Service as a part-time educator, alongside his volunteer role as Chief Fire Officer, which became a full-time position after a series of fire tragedies in the Far North.
He also worked as a fire investigator, a job he only retired from a few years ago.
His is the second 50-year Gold Star for the Kaeo brigade.
The other was awarded to John Wells in 2014. Six members have Gold Stars for 25 years' service.
Also present at the award night were the new chairman of the Fire Service Commission, former MP Paul Swain, Mayor John Carter and and Fire Service regional manager Kerry Gregory.