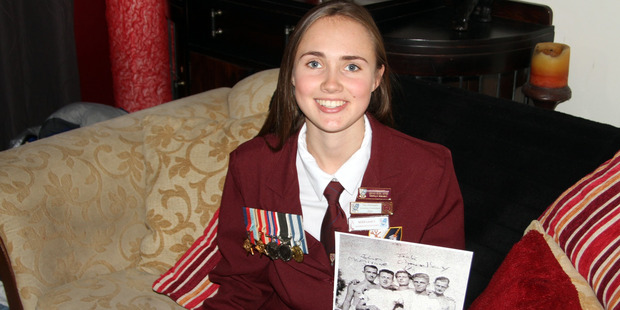 Anzac Day had personal significance for many of the hundreds of people who attended the dawn service in Kaitaia and the civic commemoration later in the morning.
They included Kaitaia College head girl Camryn Stewart, who proudly wore the medals earned by her great-grandfather, John George McAlpine, a gunner from Auckland, who served with the NZ Artillery 6 Field Regiment and was taken prisoner in North Africa in 1941, the year he turned 21.
Gunner McAlpine survived the war - he died in 2012 - but many thousands did not.
"We are all shocked and horrified when terror strikes the innocent," Camryn told the civic service at Te Ahu.
"Just reflect on the recent attacks in Paris and Belgium, hundreds of innocent people who had no idea they were walking into injury or death. Now let's reflect on the brave men and women who actually chose to put themselves in similar circumstances, fighting for our country.
They selflessly risked life and limb for the rest of us."
It would be 100 years this year since the Battle of the Somme, one of the bloodiest in human history. If the bodies of the New Zealanders who died or were wounded there were laid head to toe, she said, they would stretch from Kaitaia's cenotaph to Waipapakauri.
"It is hard to imagine the terror of those involved in or affected by the Somme; 7408 casualties," she said.
"If that's not sobering enough, try adding all New Zealand's World War I and II victims, and our line of men and women would span from Kaitaia to just this side of Whangarei. Imagine driving past corpse after corpse for two hours, all lying in that position for their country and our freedom.
"It's impossible for me to think about the same thing happening today. Brothers, friends, uncles, fathers, sons, grandsons and husbands, all leaving our town, many to never be seen again."
Camryn had been studying the soldiers from the Kaitaia area who fought in World War II. There were many well recognised family names - Steed, Trigg, Thompson, Busby, and the Fisher family, who "incomprehensibly" lost four sons.
"Few of us could imagine the grief that struck these families when they discovered that their loved ones had been killed in battle. The soldiers fought and died for New Zealand, and for the freedom of those of us gathered here today, and for me, this is what Anzac Day is all about," she said.
A century had passed since the Battle of the Somme, and many things had changed, but the spirit of Anzac Day had not. Monday's service was proof of that.
"A few weeks ago I was privileged to attend the re-dedication of the war memorial in town," she added.
"It was a very special community event, with many familiar faces, young and old. As the names of the Mangonui County soldiers who died in WWI were read, the entire hall was silent for 40 minutes. I saw people crying. You could feel the emotion in the hall. It was very moving to be part of the day that honoured the bravery of the men who helped to make our town what it has become today."
Camryn concluded with a quote (from Indian poet Kalidasa) recorded by her great-grandfather, which she had found in his letters home: 'Look well to this day, for yesterday is but a dream and tomorrow is a vision, But today well lived makes every yesterday a dream of happiness.'
"We will remember them."
Send us your pics
Send us your Anzac Day pics, of the services you attended or what you and your family did on this special day, and we will display them on our Facebook page. Send them, with a brief explanation, to info@northlandage.co.nz