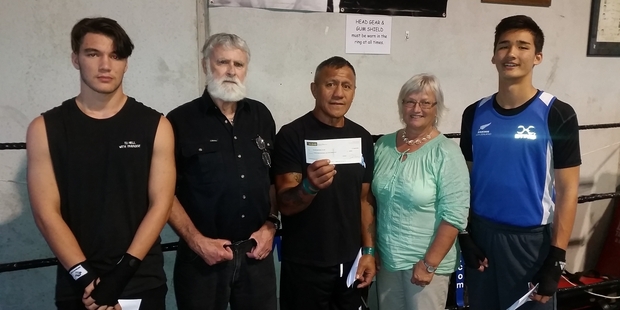 A scholarship established in memory of a young Far North man who was killed while cycling to fire brigade training has been awarded to two teenagers who are keen to make a mark in the world of boxing.
This year's Robin Thorin Memorial Scholarships, each worth $2000, were presented to 15-year-old Kyle Chen (Haruru Falls) and 16-year-old Floyd Chadwick (Peria) at Rusty's Gym in Waipapa.
Thorin family friend Warrick Bleakley said the scholarship had been established after Robin died 2007, but the trustees had found it surprisingly difficult to attract applicants, so this year they had been more proactive.
"We decided we'd give it to youngsters who need a bit of help, so we talked to (Kaeo boxing coach) Rusty Porter. He trained my boy, and he's done an awful lot for young people. He knew about the scholarship and said he had a couple of good candidates, so I went out and watched them spar," Mr Bleakley said.
He had been impressed by the gym and the candidates. Kyle had already competed internationally, and had his sights set on the Olympics; Floyd showed great commitment by travelling to training every night from Peria.
The money will be held by the gym and used to help cover training and travel costs. The aim is also to support the boys' education.
Kyle said the scholarship would help cover school costs such as bus fares and books, as well as boxing gear and transport to tournaments around the country. His top achievement so far was representing New Zealand at last year's world junior boxing champs in Russia. His aim was to compete in the 2020 Olympics in Tokyo.
Mr Bleakley said the scholarship was an on-going commitment.
"We'll keep an eye on these boys, and we may give them a little more next year if it's needed. It's not a huge amount of money, it's just enough to knock the edges off," he said.
Robin had been a fit young man, he added. As well as keen triathlete, boxer and pilot, he was a volunteer with the Kaeo Fire Brigade.
Mr Porter said he trained Robin when he was still a teenager. His photo still looks out over the gym.
"He was very, very fit. Whatever he did, he did at 100 miles an hour," he said.
The 26-year-old was cycling to a brigade training night in April 2007 when he was hit from behind by a car on State Highway 10.
The 36-year-old driver, who was disqualified while his car had no warrant of fitness or registration, pleaded guilty to driving while disqualified but denied careless driving causing death. He was convicted after a defended hearing in the Kaikohe District Court, and served a community-based sentence after Robin's family asked the judge not to send him to jail.
Robin Thorin attended Bay of Islands College and Kerikeri High School before training as a pilot and becoming chief flying instructor at Quantum Aviation in Kerikeri. About 400 people, including 65 firefighters forming a guard of honour and Mr Thorin's mau rakau group from Kaikohe performing a haka, attended his funeral at the Kaeo fire station.
-Chen wins in unanimous decision - P16