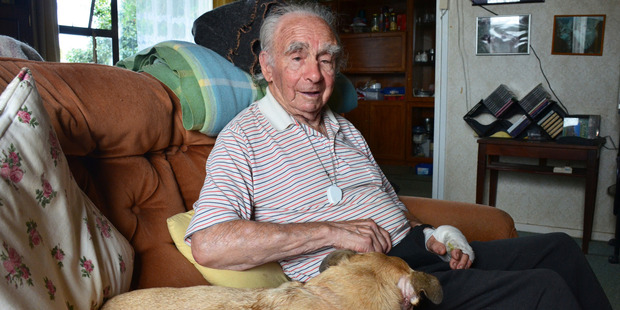 Kaikohe couple Garry and Cynthia Moran say they have seen first-hand the human carnage created by vicious dog attacks in their street, Harold Ave, and are once again calling for tougher action on wandering dogs and their owners.
And they have challenged "the administrators who are sitting on their hands" to walk the streets of Kaikohe with a dog, particularly in the evenings, and see what happens.
The couple spoke out again following Saturday's dog attack that left 92-year-old Jim Morgan and his dog Sandy nursing their wounds, saying helping victims covered in blood get medical help was "absolutely traumatic."
According to Far North District Council records, 135 dog attacks were reported in the district in 2010. Twenty-one of those were in Kaikohe, 20 in Kaitaia and 19 in Kerikeri. In 2014 there were 198 reported attacks, including 38 in Kaitaia, 33 in Kaikohe and 19 in Kawakawa.
Forty-four attacks had been reported so far this year, including 10 in Kaitaia and seven in Kaikohe.
The Morans had gone to Mr Morgan's aid on Saturday after he was knocked to the ground by an American pitbull as it launched at Sandy. Mr Morgan had tried to fend it off and was bitten on the hand, ending up lying on the road screaming for help as Sandy was attacked, an extensively injured.
They said they had begun calling for sterner action on irresponsible dog owners 10 years ago, but nothing had changed.
"There do not seem to be enough boots on the ground to deal with the issue," Mrs Moran said.
Over the years they had spoken with council officials and mayors, including current Mayor John Carter, about getting tough on stray dogs.
"They were going to ban dogs in the main street, but people are still walking massive dogs on chains big enough to tow a bulldozer. They use them to intimidate people, and it shouldn't be allowed," she said.
Mr Moran believed that when a dog came to council attention the owner should have to supply a detailed plan for its future, failing which it would not be returned.
"They need to lay down the law and enforce it. If they don't, more than likely someone is going to die, and it will probably be a child," he said.
Night patrols would also reveal dogs roaming after dark. Friends had told them they no longer walked or biked on Kaikohe streets for fear of dog attacks.
FNDC team leader for animal management Ken Thomas said dog control officers had gone door to door in Harold Ave on Monday, checking who owned dogs and if they were registered.
"There were some dogs that weren't in our system but are now," he said.
"In lower socio-economic households dog registration tends not to be at the top of the list. They are not bad people, they just have other priorities, so we will help them become compliant."
The council was also undertaking more education work around dog registration around the district.
Meanwhile Sandy has been back to the vet for more intensive pain killers, while the pitbull has been handed over to the council and is expected to be destroyed.
Mr Thomas said the owner had gone to the council on Monday morning and surrendered it. The dog had been registered and the owner was very apologetic. She had gone out, leaving the dog locked in a shed. It was unclear whether if it had escaped or been let out by teenagers at the property.
Consideration would be given as to whether charges would be laid.