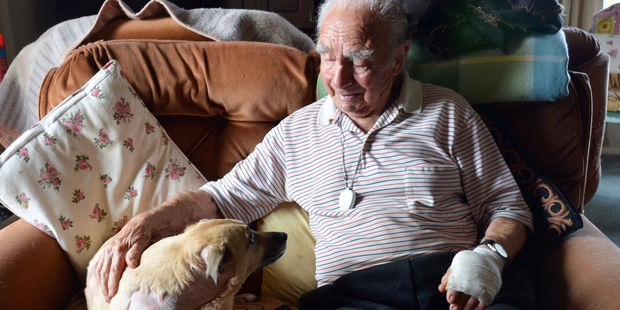 An old soldier has joined the chorus of voices calling for tighter dog control laws after he and his best mate, eight-year-old terrier/chihuahua cross Sandy, were mauled by a dog in Kaikohe on Saturday.
The dog initially went for Sandy but turned on 92-year-old Jim Morgan, who he had knocked to the ground, when he went to his dog's rescue. All he could think about, he said, as he lay on the ground being bitten, was protecting his four-legged companion.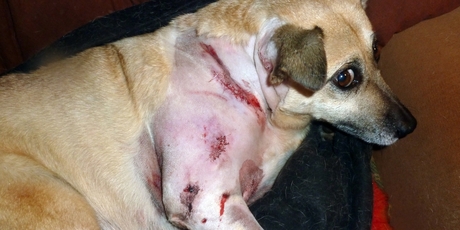 They are now recuperating at home, Mr Morgan with stitches to his left hand, and on Sunday in more shock than immediately after the attack, Sandy with stitches to wounds on his neck, armpits, legs and back.
Mr Morgan, who has poor hearing and eyesight, said he only saw the attacking dog when it was a metre away from him, just 100m from his front gate in Harold Ave.
"I just saw it coming at me. He made a dive for Sandy and he knocked me over," he said.
"The dog was biting, and all I wanted to do was get the bloody dog off Sandy. I was just screaming for help when I realised I couldn't do it."
A neighbour had gone to Mr Morgan's aid, grabbing the attacking dog by the collar, at which point it became docile. Mr Morgan walked home with his badly injured canine companion and immediately phoned a vet.
"There was no answer so I tried another neighbour, who suggested I call the police," he said.
An ambulance arrived to take him to a local doctor's surgery, where he received stitches to a bite on his left hand and treatment for bruising and cuts to his knees and elbows, while Sandy was delivered to a vet in Kerikeri. Treatment of his wounds had cost $700.
This was not the first time the pair had been targeted by stray dogs in Kaikohe. In the past month Mr Morgan had been knocked to the ground, but not bitten, and four months ago there was an incident involving two pitbull terrier cross dogs.
"These attacking dogs should be put down. The owners should have some sense. They know they should be be tied up, so why let them loose?" he said.
Neighbours Cynthia Moran and her husband Garry, who are checking on Mr Morgan and Sandy regularly, said serious dog attacks had been happening in the street since 2006. They feared it was only a matter of time before someone was killed, and it was fortunate that another neighbour had managed to contain the dog.
Animal control officers had been busy so Mr Moran took the dog, with blood over its face and chest, to the Kaikohe police station.
The couple now want authorities to take a tougher line on owners of dogs that roam and attack.
"I want them to get rid of the bureaucratic nonsense that has never worked and get these dogs taken away from people," Mr Moran said.
"If dogs are taken the owners should have to provide a physical and financial plan for the dog's future, or they don't get them back. They also need more animal officers on the ground."
Mr Moran himself had been knocked over by charging dogs, while his wife said a young boy in her street had been savaged by dogs, and was dripping in blood when he knocked on her door asking for help.
Three dogs were seen roaming less than 24 hours after Saturday's attack, Mr Morgan telling neighbours that he no longer felt safe walking the streets, while others are calling on the district council to provide dog-safe areas to walk.
Can you help? Anyone who would like to help Jim Morgan pay his vet bill after Saturday's dog attack is welcome to donate via the Northland Age and Northern Advocate. Contributions may be given at the newspaper offices in Kaitaia, Kerikeri and Whangarei, or the Far North District Council offices in Kaikohe.