Reaching the age of 100 is not as unusual as it used to be, but few couples can match Tom and Bertha Trigg's achievement, of both reaching the milestone.
Tom Trigg was the elder of two sons of Benjamin and Jessie (nee Chapman). He was born on October 11, 1915, at Rawene, followed by Eric Amos (Podge) on January 17, 1917. Jessie's father, Thomas Chapman, was an engineer for Lane and Sons at Totara North.
One of Tom's earliest memories is of walking to Utakura School with the teacher, when he was just four years old. The teacher boarded with his parents, a five-minute walk from the school, and taught part-time there and at Okaihau.
In 1921 the family moved to 40ha at Peria, where Tom started school in earnest at Oruru and then Peria School. He finished at the age of 14 and worked for his father on the dairy farm, still mainly fern and scrub.
Haymaking was a time when settlers in the district pulled together to get the job done.
It was labour-intensive; no balers in those days. Tom mowed with a rattly old sickle mower pulled by two horses, and after the hay dried it was raked into small stacks that were carried to a larger stack in the paddock. He also worked at Johnny Olsen's mill at Peria, pit-sawing logs.
He later went to work for old Harry Thomas at Peria, sharemilking for two years, followed by working for George Thomas, who had a big block of 365ha at Karanui. George, who was not much older than Tom, ran the block after his father died. They ran sheep and had a three-stand wool shed. Tom became quite proficient at shearing at Karanui.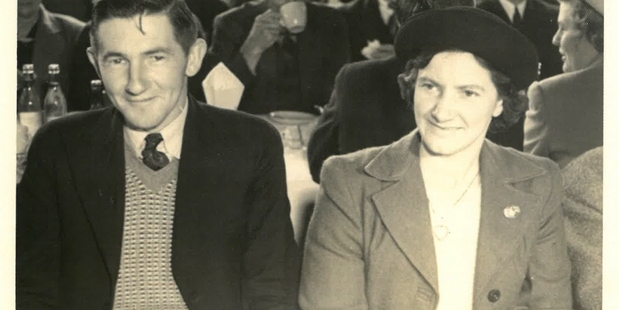 George's sisters, Bertha and Mabel, helped their mother cook for the shearing gangs, and Tom and Bertha met there. He worked for George for three years, then in 1936 went sharemilking for blacksmith Robert Thompson up Fern Flat Road for five years.
Tom and Bertha married in 1938 at the Fairburn Church, moving into a three-roomed shanty on the Thompson farm, where they had two children, Heather and Donald.
In 1942, Tom joined the Mounted Rifles in the Home Guard, receiving two medals in recognition of his service, and in 1944 he and Bertha bought 72ha at Fairburn: 60ha of hills, where the homestead block was, and 12ha acres across the road - once the Fairburn Creamery, then used by Tommy Hayden as a store and much later as a hay barn.
The Triggs milked cows and worked the land, kept hens and maintained a great garden and orchard.
They became active members of the Fairburn community, joining in church and hall functions, bowls, cards, table tennis and dances. Bertha was a member of the Fairburn Branch of Country Women's Institute and for many years competed in the indoor section of the Mangonui County A&P show, winning prizes with her needlework, baking, preserves and garden produce. From the old school of 'waste not want not', over the summer months she made jams and pickles and every year she preserved around 300 bottles of fruit.
Tom was a keen sportsman, playing rugby in his school days, but developing his farm didn't leave much time for recreation.
He spread fertiliser and lime by hand, carting bags with horse and sledge up to a high point.
High up on the hill he could hear the rugby crowds roaring when a game was underway on the field down the road. He would cut a slit in a bag and lift it over his head like an apron, then walk up and down hills, spreading the contents.
One afternoon he spread five tonnes of lime after an early lunch and finished by milking time:
"Boy, I was beat that day!"
Around 1946, he started playing tennis on the Fairburn School courts, and later became a keen bowler.
He and Bertha also attended many dances around the district.
In 1977 they sold the farm and retired to Kitchener Street, Kaitaia, but Tom wasn't quite ready to give up. He kept a small acreage where the creamery had been and continued to graze a few cattle and keep his garden.
The couple celebrated their golden wedding with family and friends at the Fairburn Church Hall on June 22, 1988, and remarkably, both reached the milestone of 100 years. Bertha died on August 6, 2010, at the grand old age of 101.
In May 2011, Tom celebrated his 95th birthday by taking a ride with Grant Simpson in his gyrocopter, flying over his farm at Fairburn. That trip remains a great highlight among his many memories.
Tom celebrated his 100th birthday on October 11, 2015, at a function at the Fairburn Hall with family and many friends.
He still enjoys good health, lives in his own house, cooks his meals and is still driving.
He tends his garden at Fairburn, driving out there most days.
I met him recently in the car park at Pak 'n' Save, packing his groceries into the car before heading home.
What an amazing man!