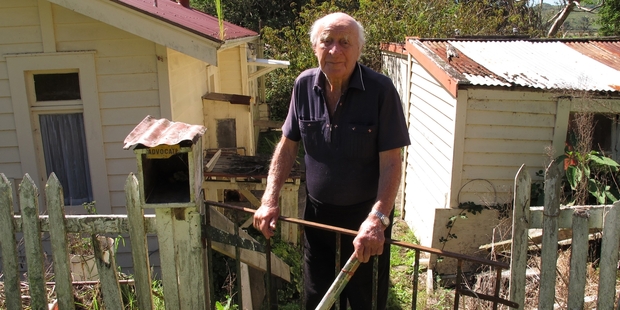 Bill Tuckey reckoned he'd probably spend yesterday pottering around his house, perhaps tending to his dahlias or picking the last of his tomatoes and taking a walk to the top of the hill. He'd have his lunch delivered but he'd take care of his breakfast and dinner.
A few mates or family members might stop by - highly likely, given that yesterday was Bill's 104th birthday.
The long-time Rawene resident uses a hearing aid and walks with a stick if he's going any distance, but he's still sharp as a tack. He lives in his own home and can reel off dates and names from early last century as if they were last week. And he half wonders what the fuss is about.
Trevor William Tuckey was born in Thames on April 4, 1912, and was still a toddler when his father was sent to World War I. After the war his parents took over the Masonic Hotel in Tauranga, but his father, who never recovered from being gassed in the trenches, died a few years later.
His mother stayed on at the hotel, remarried, and took the family back to the Coromandel to run the Masonic Hotel in Tapu. They then took on the Masonic in Papakura, and in 1928 the Masonic in Rawene.
Apart from a break from 1937 to 1950, Rawene has been his home ever since.
Bill first set eyes on Nora Cochrane when he was a lad of 16. She worked at the general store, and walked down Parnell St and past his family's pub every day. When his parents bought a farm on the next point, young Bill would row up the harbour, land on the beach below the hospital and walk up the hill to visit her.
They married in 1934 and had six children, four of whom are still alive. The eldest son, Bruce, 79, lives at Totara North. Bill has lost count of his grandchildren and great-grandchildren.
"There's a bloody swag of them, I know that," he says.
He worked in dairy factories at Motukaraka, Kaeo, Te Hana and Maungatapere until his mother-in-law's death in 1950 brought the family back to Rawene and the Parnell Street home where he has lived ever since.
He was promptly offered a job as a dairy farm inspector and spent the next nine years travelling around the Hokianga. The work often took him away from home for a week at a time.
Later, he worked for the Hokianga County Council as a storeman and finally for Rawene's general stores, Lane's and Andrewes', driving to the railhead at Kaikohe, picking up goods and delivering them around the South Hokianga.
The biggest change he has seen in his lifetime is the state of Northland's roads. People grumble about them now, but back then the road between Kaikohe and Rawene was a mud track and bus passengers regularly had to get out and push.
Meanwhile staff at Hokianga Hospital, straight across the road, keep an eye on Bill, but he keeps good health.
"I can't growl about it. How many people as old as me can still get around?"
He has a few minor niggles but has only been in hospital three times - when he broke an arm falling off the rings as a schoolboy gymnast, having his appendix removed, and after a crash at the Rawene crossroads when he was 99. He handed his licence in after that, mortified by the thought that he could hurt someone if he crashed again.
He's determined to stay at home as long as he can.
"I hate to think of the day I have to go into hospital. But it'll come one day, that's all there is to it. I'd bloody hate being told what to do."
His main lament about getting older is that he can't do as much as he used to. A bloke comes in to do the lawns and he has to pace himself in the garden.
"You can't do a decent day's work any more. When you get to 104 you'll know what I mean."
Bill doesn't have any particular secrets for longevity. He keeps himself active by walking up Parnell Street most days and working in the garden - he can't understand why some people don't grow their own fresh veges, making do with "old stuff" from the shops instead - and he's never so much as puffed on a cigarette. He'll have the odd shandy after a hot day in the garden, but a childhood in his parents' hotels cured him of any interest in drink.
"I got sick of the sight and smell of the stuff after growing up in pubs. To drink like some jokers do, it's just money down the drain," he says.
Bills wishes Nora was still with him - she died 21 years ago, "a long time to be on your own" - and at times he wouldn't mind slipping away, too. Mostly though, he's happy with his dahlias, his vege patch, his daily walks, reading the paper, visits from friends and family.
"Sometimes I feel like, for God's sake, I wish something would happen and take me away. But other times I'm quite happy. You just can't do everything you want to. But, as far as I'm concerned, it's been a good life."