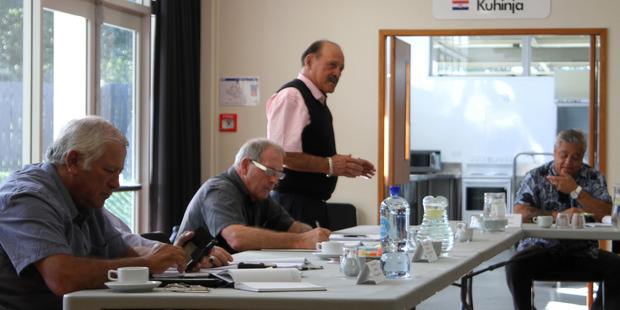 Te Runanga o Te Rarawa chairman Haami Piripi and Northland regional councillor Dover Samuels were elected chairman and deputy chairman of the newly-formed Te Oneroa-a-Tohe Board, established as part of the Treaty settlements with Ngati Kuri, Te Aupouri, Ngai Takoto and Te Rarawa, in Kaitaia last week.
The board comprises Mr Piripi, Cr Samuels, Graeme Neho (Te Manawa o Ngati Kuri Trust - temporary), Waitai Petera (Te Runanga Nui o Te Aupouri Trust), Rangitane Marsden (Te Runanga o Ngai Takoto, who was also nominated as vice-chairman), regional councillor Monty Knight, Mayor John Carter and Far North district councillor Dave Collard.
Last week's agenda included confirmation of those appointments, adoption of standing orders and the board's functions, which include:
* To prepare and approve a beach management plan that identifies the vision, objectives and desired outcomes of Te Oneroa-a-Tohe management area;
To engage with, seek advice from and provide advice to Te Hiku o Te Ika iwi, councils and any relevant beach management agencies;
* To monitor activities on and in the state of the management area;
* To display leadership and undertake advocacy, including liaising with the community, in order to promote recognition of the unique significance of Te Oneroa-a-Tohe me Te Ara Wairua (spiritual pathway to Hawaiiki);
* To appoint commissioners to panels for the purpose of hearing and determining resource consent applications within the management area (in whole or in part);
* To engage and work collaboratively with joint management bodies for cultural redress.
The board is to operate in a manner consistent with tikanga Maori, acknowledge the authority and responsibilities of the councils and iwi, and acknowledge the shared aspirations and principles of iwi and councils.