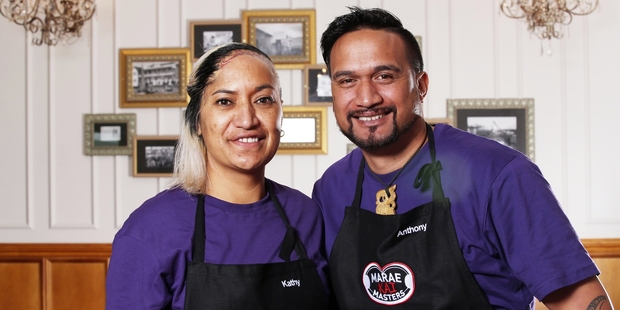 Cooks from five Far North marae have their sights set on winning the title Marae Kai Masters 2016, but they have seven others to get past in the Maori Television series that began screening on March 16.
The field includes friends Phillipa (51) and Polly (65), representing Waikare (Kawakawa), who were seen in the last series of Marae Kai Masters. They are on a mission to prove that they have what it takes after being eliminated in the first round. Phillipa nurses her invalid husband and is famous for her steamed puddings, while Polly is retired with an extraordinary work ethic.
Sisters Wini (52) and Tui (43) are representing Whananaki. Problem gambling counsellor Wini is hailed as an expert at cooking a feed out of nothing and saying exactly what she's thinking, while addictions counsellor Tui specialises in making 'mean-as' salads that she never eats, and doesn't want to give her cousins any opportunity to "give her heaps" about her performance.
Whanau Bonz (34) and Brian (Moria Marae, Hokianga) are famed for their 'pukalicious' meals.
They say they are keen to learn, and could do with a share of the prizes, their marae needing everything from an oven to crockery.
Husband and wife Anthony and Kathy (both 37) are representing Matawaia (Kaikohe).
Anthony is a carpentry student who is famous for his fried watercress and tunutunu tuna, while Kathy, a hairdresser by day, specialises in takakau and cakes, and has a very competitive streak. Both admit however that their time management skills aren't the best.
Marae Kai Masters screens on Maori Television at 8.30pm on Wednesdays, with the final scheduled for May 18.