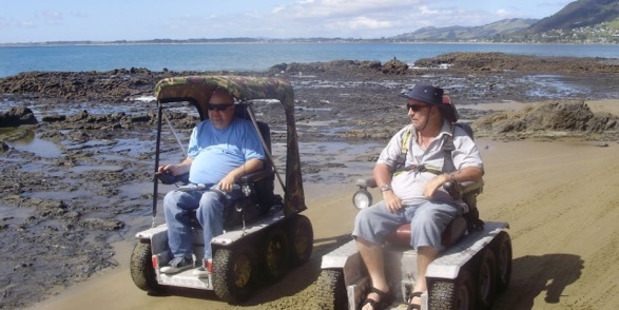 Switzer Residential Care general manager Jackie Simkins has made it very clear that an 'unsuccessful' appeal to the home for help when a tetraplegic found himself marooned in the Mangamuka Gorge on March 24 was a problem not of the home's making.
Bryce McFall (Tetraplegic stuck, March 31) waited for two and a half hours for transport to arrive after the vehicle he was driving crashed on the northern side of the gorge, Kaitaia's Chief Fire Officer, Colin Kitchen, saying calls for assistance from Switzer and the RSA in Kaitaia were "unsuccessful."
Mrs Simkins said facilities manager Doug Klever had been advised by clinical manager Jenny Kitchen that a request for assistance had been received from the police and the fire brigade. Mr Klever phoned the Kaitaia police station, the call going through to Whangarei, and was told that staff there had no knowledge of an accident in the gorge or of anyone needing assistance.
He asked to be put through to the Kaitaia police station directly, and received the same answer.
Mr Klever offered the home's vehicle if any assistance was required, but was not contacted further.
Mrs Simkins said she was disappointed by the inference that the home had declined to help, which it would not do, and that Mr Kitchen had implied that he would be talking to the home without first making contact.
Mr Kitchen said he had been misinformed about the responses from Switzer and the RSA, the latter saying it would have helped but did not have a suitable vehicle. (Mr McFall's wheelchair weighs 170kg).
"We really need a database for situations like this," he said, adding that the problem had been compounded by the lack of a cell phone signal at the scene of the crash, "but that's another issue."
Mr McFall (52) said he had been on his way to Ahipara to complete one of his "bucket list" items by fishing on 90 Mile Beach when the engine in his modified vehicle cut out, causing the brakes to fail.
"There was no power steering either, and the car was getting quicker and quicker. I made a conscious decision to drive into the bank to stop," he said.
The vehicle came to a halt hanging over a steep bank, while a trailer with a modified four-wheel drive buggy for the beach remained on the road.
Following motorists removed Mr McFall and his caregiver, also confined to a wheelchair, from the car and moved the trailer off the road.
A couple continued to Kaitaia to get cell phone coverage to call emergency services, then returned to comfort Mr McFall, who was finally collected by friend Kevin Griffiths, from Ahipara, after the hospital bus operated by Kaitaia firm Harrisons Cape Runner had arrived and driver Craig Harrison was preparing to hoist him aboard.