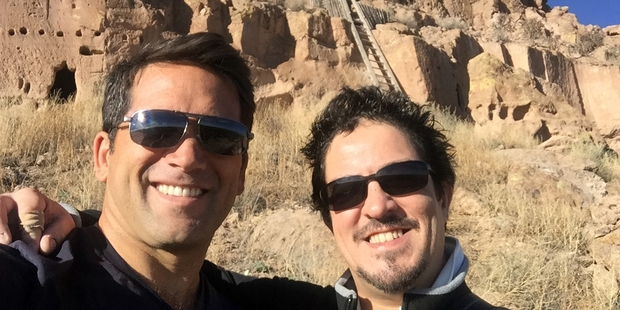 Kaitaia GP Dr Lance O'Sullivan said before he left that he was going to the United States to see what he could learn that would benefit his own community (The doctor is out, February 23), and is doing just that.
He is one of 21 leaders from as many countries, leaders in their particular fields, who are taking part in a three-week International Visitors Leadership Programme (IVLP).
"This programme is run by the US State Department, and has been going for 76 years, with more than 200,000 graduates over that time," he said.
"The idea is to get people from around the world to come to the USA and be exposed to the history, political and economic structure, and the people of the world's largest and most powerful country.
"There is no doubt that many of us in our small part of the world, aka Paradise, know bits and pieces about the USA, but not a whole lot. My desire to come on this trip was exactly because I want to know more about the USA so I can have an informed opinion.
"It is even more critical and relevant to New Zealand in this time of the TPP that I have more knowledge about a country that we might have stronger ties with (in this case economic). I am not the type of person to make sweeping comments about an issue without having assessed it fully."
Each IVLP delegation had a theme that reflected areas that were deemed important to a more united global community. Dr O'Sullivan's group's theme was civic activism and non-government organisations (NGOs).
"I am absolutely privileged to be with delegates from the Congo, Nigeria, Uganda, India, Saudi Arabia, Israel, Takjistan, Azerbaijan, Zimbabwe, Namibia, Zambia, South Africa, Burma, Hong Kong, Macedonia, Norway, Poland, Morocco, Portugal and Turkey," he added.
"At times I feel incredibly humbled to be among a group of leaders like this, and it has made me appreciate the liberties and freedoms that we take for granted. I am in the company of people who desperately seek the right to be able to celebrate freedom of expression that could be related to their sexuality, their religion, their culture, or simply their right to live and a full and meaningful life.
"At times I listen to some of my fellow delegates, almost in tears as they talk about their earnest desire to seek help for their people back home. It may be the Congolese man who is only four years older than my oldest son, who laments the nine million people who have died in his country in the last 12 years, or the indigenous Kachin delegate from Burma talking about the 160,000 Kachin people living as IDP (internally displaced people), reflecting turmoil in a part of the world that I knew nothing about.
"It is true that I have had to look on a map to find the location of the homes of my fellow delegates."