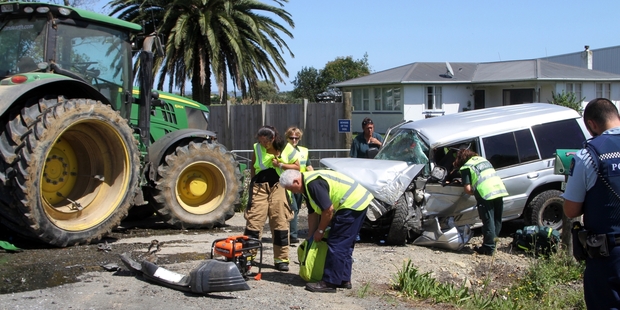 Details were sketchy at edition time yesterday, but a female passenger in a four-wheel-drive vehicle that collided with a large tractor towards the southern end of the Awanui Straight was believed to be seriously injured.
A Kaitaia Fire Brigade crew was cutting her free from the wreckage of the vehicle, while St John medics stood by to continue treatment that began while she was still in the car. It was not known whether a rescue helicopter would be called.
According to police both the tractor and the 4WD had been travelling south, the car pulling out to pass two other vehicles and the tractor as it began turning right into a driveway. The collision appeared to have occurred in the north-bound lane.
Neither driver were believed to have been hurt, although police were still conducting their initial inquiries.
The tractor came to a halt at right angles to the highway, just off the north-bound lane, while the 4WD, which was substantially damaged, was shunted backwards into the driveway. The road was reduced to one lane while emergency services worked at the scene, firefighters directing traffic, but was not closed.