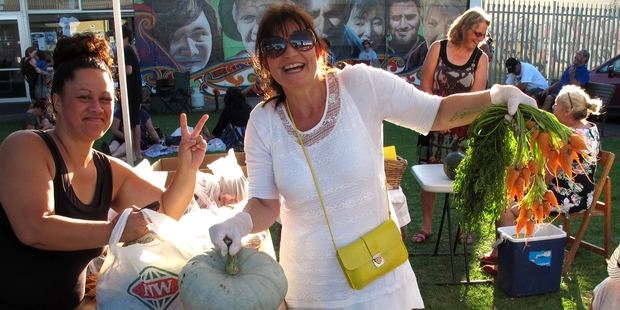 What started as a plan to make Kaikohe more self-reliant has morphed into a market providing townsfolk with fresh produce and a weekly evening out for local families.
Kaikohe's night market, which opens for business in Marino Court (Library Square) from 5pm every Thursday, was founded by Mike Shaw after the 2014 floods, when the Far North was cut off from the rest of the country for several days, leaving the district critically short of food and fuel.
It also galled him that $24 million was spent each year in Kaikohe's Countdown, New World and Four Square stores, but almost all the profits, particularly Countdown's, went out of town.
He resolved to set up a market garden on leased land on Wihongi Street, to make Kaikohe more self-reliant and create employment, and a food co-operative to connect local growers and customers.
"The initial idea was to get producers to take on the supermarkets, then the floods cut off the Far North and the council came within hours of rationing food.
That dependency on trucks rolling into town, and the money going out of town, were the impetus," Mr Shaw said.
The Kaikohe Co-operative is working on a web-based system for selling its produce, but Mr Shaw said online shopping lacked the social aspect of a market.
He took advice from the founder of Whangarei's hugely successful farmers' market, and teamed up with Kaikohe librarian Jessica Tuckerman to start the night market. Ms Tuckerman had hoped to set up an artisans' market, and had already done the groundwork needed to get it off the ground.
Last Thursday's market, the fifth so far, drew a few hundred people.
As well as the co-op's fresh greens, fruit and eggs, market-goers could buy Cook Islands kai, barbecued corn, hangi, second-hand goods and crafts. There were also fundraisers for an infant's unveiling and Northland College's military academy.
Families were using it for an evening out, bringing picnics or buying dinner from the stalls and listening to live music.
Mr Shaw said the location, with its playground, public toilets and free wifi, was ideal. The market would continue through summer and switch to an indoor venue in winter. The new, earlier start time of 5pm was designed to catch workers before they went home.
Giving people an opportunity to grow and buy food locally was his way of opposing the TPP trade agreement, he said.
"You can yell and shout about it, but if you go to Countdown afterwards and buy Australian beans, that's hypocrisy," he said.
Meanwhile the Wihongi Street market garden grows a wide variety of produce, including pumpkins, melons, tomatoes, kamokamo, beans, carrots, spinach and cucumbers.
The last horticultural operation there was wiped out by Cyclone Bola in 1988.