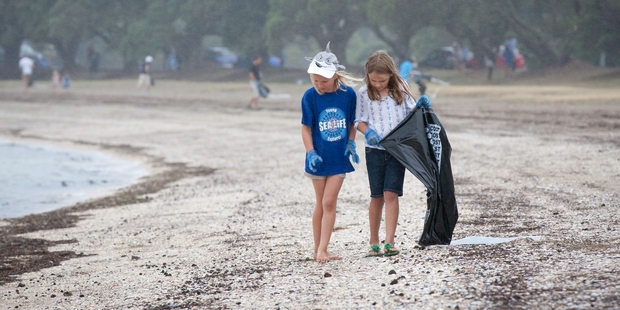 Seaweek 2016 gets underway on Saturday, and once again there will be plenty of opportunities for involvement.
The Northland Regional Council is offering free beach clean-up kits comprising a clean-up guide, gloves, sun block, rubbish bags, tide tables and more, for use any time not only during Seaweek.
Those who send details of what they have collected, with photos, will go into the draw for a beach kit. Go to www.nrc.govt.nz/seaweek to register.
Kiwi North will host a 'Whale of a Day' at the Butler Point Whaling Museum at Hihi on Monday (10am-2pm), offering the chance to look through the museum, learn about the various species of whale and how they live, and the skills needed for whale rescues. Admission is $15 for adults, $5 for children. Email education@kiwinorth.co.nz or phone (09) 438-9630 to register.
There will also be a beach clean at Taipa, in front of the school, on Monday (10am), with activities, information about dunes (including releasing dune plants from weeds), dotterels and weaving pingao.
Email coastcare@nrc.org.nz or phone Laura Schrafft at the Northland Regional Council on 0800 002-004 to register.
The Kaitaia library at Te Ahu will host a pre-school fun time on Wednesday (10.30am), featuring information about the sea, activities, stories, giveaways and lots of singing. Email helen.yuretich@fndc.govt.nz for more.
Meanwhile three national competitions are already under way, all inspired by the theme 'Toiora te Moana - Toiora te Tangata: Healthy Seas - Healthy People.'
Prizes will be awarded in two age groups (up to 16) in a children's competition for a three-line haiku, illustrated with a photograph.
Email entries with the author's age and contact details to mels@subliminal.co.nz. Images must be attached to the email in JPG format with the poem text separate from the image.
The winners in both age groups will collect a Young Ocean Explorers-branded mask and snorkel set, plus the Young Ocean Explorers book and DVD.
The Instagram photographic competition Sea Me: How Seaweek Inspires Me, is open to all ages. Follow @nzaeeseaweek on Instagram and post a photo and caption (20 words max) that illustrates what the entrant and their school/group/organisation/family or whanau are doing to help keep seas healthy for all, including learning about and experiencing the local coastal environment.
Photos must be tagged #seaweek2016 #healthyseashealthypeople, with entries to be shared on Seaweek's Facebook and Twitter feeds as well as Instagram.
First prize is a New Zealand Geographic and Pro Photographer subscription, plus random spot prizes.
The Design a Doodle4Seaweek is also based on the Seaweek theme and logo. Go to www.google.co.nz/doodle4google/winners for inspiration, and download the entry form from the Seaweek website (www.seaweek.org.nz/competitions). Entries must be emailed to mels@subliminal.co.nz, with daily winners to be posted on Facebook before overall winners are chosen in two categories, school Year 1-11 and adult.
Full details of all three competitions can be found at www.seaweek.org.nz, along with a national events programme.