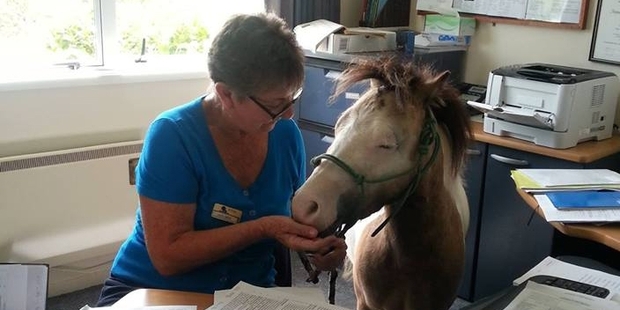 It takes something out of the ordinary to faze Switzer Residential Care general manager Jackie Simkins.
And the sight of a horse, albeit a small one, strolling into her office without knocking didn't meet the required shock standard.
Four-year-old miniature Peter Paint, who lives just along State Highway 1 from the home, dropped in with his owner, Sally Kenworthy, and was an instant hit with the residents. And the general manager.
"He brought his own morning tea with him, which was thoughtful," Jackie said, "but he was really there to check on my spreadsheets. He seemed to be happy with what he saw."
Those who wanted a pat were welcome to indulge themselves, but at least one resident momentarily wondered what was going on.
"She said she woke up and there was a horse and a dog," Jackie said, "but she wasn't hallucinating."
Peter Paint had strolled through the home from one end to the other, displaying commendable bowel control every step of the way.
Meanwhile any doubts she might have had about the future of the Eden Alternative, a philosophy founded on the principle that a rest home should be as close to a resident's own home as it can be, had long been banished.
Animals played a significant part in making the home a home, she said. Switzer now had a resident rag doll cat (and several other felines that arrived under their own steam), and routinely enjoyed visits by other animals, including St John Outreach dogs. Peter Paint made a popular addition to the menagerie, and was welcome back any time.
The residents had also greatly enjoyed a recent visit by children from Mission Place Kindergarten, which had been a huge success. The children had interacted with the residents happily and confidently, and Jackie, her staff and residents were hoping to see them again soon.