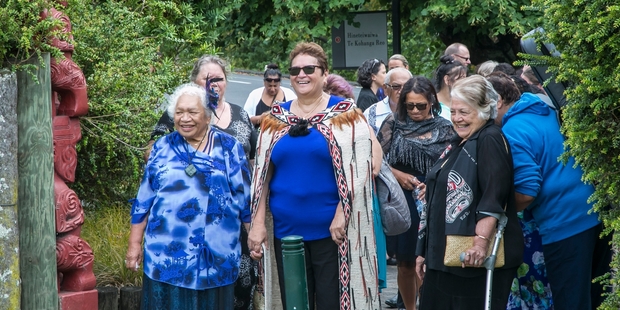 Dr Margaret Dudley was formally welcomed on to the Auckland University marae last week, in recognition of her status as the first Maori full-time (and permanent appointee) as a doctorate of clinical psychology lecturer.
The doctoral programme was established 25 years ago, and the university described her academic qualifications and practitioner experience as unique.
Dr Dudley (Te Rarawa, Te Aupouri, Ngati Kahu, Whakamaharatanga Marae, Manukau/Herekino) is the first and only Maori neuro-psychologist, and is often asked to speak on cultural issues in that field (the relationship between the brain and behaviour in all its forms - cognition, emotions, behaviour and impulse controls).
Health is recognised as involving cultural factors when managing neurological conditions in Maori, but in the past assessment has been according to a Western model, she said. Dr Dudley's role is to implement culturally appropriate perspective and training in future health practitioners, and in particular psychologists.
Dr Dudley's story is one of hard slog and local support. She has acknowledged Te Runanga o Te Rarawa, which provided her with a study grant at a crucial stage of her career.
One of nine children (and two daughters) raised by Maraea (nee Clark, Manukau) and Norman Dudley (Pakeha), she came from a very humble background. Both her parents had to work hard to provide for their children. Clothes were always second-hand and there was very little money for extras.
She attended Blockhouse Bay Primary and Intermediate School, then Lynfield College.
"I loved school, but I left at 15, prior to sitting School Certificate," she said.
In 1970 she joined the RNZAF, and at 18 she was promoted to sergeant, the youngest senior NCO since World War II, taking female recruits through the basic training course. She represented the RNZAF and Combined Services, Auckland, Canterbury and Marlborough in basketball.
She married in 1980, had a baby and migrated to Australia. She divorced in 1985, and continued to work in Sydney as a courier driver and cleaner while raising her child alone.
She returned to New Zealand in 1990 but could not find work so enrolled in a New Start programme for mature students returning to education at the University of Auckland. She began a Bachelor's degree in 1991, graduating in 1993, followed by a Master's degree and post-graduate Diploma in clinical psychology in 1996.
Dr Dudley worked in the community in Auckland and Northland, with people who had suffered brain injuries, as a clinical psychologist for 15 years, and was awarded a fellowship to undertake a PhD in 2008, becoming the only Maori to achieve that qualification in neuropsychology in 2011.
In 2013 Dr Dudley was awarded a three-year HRC post-doctoral fellowship to study cognitive testing with Maori.
Her goals now are to increase the number of Maori students training in clinical psychology and the cultural competence of non-Maori students.