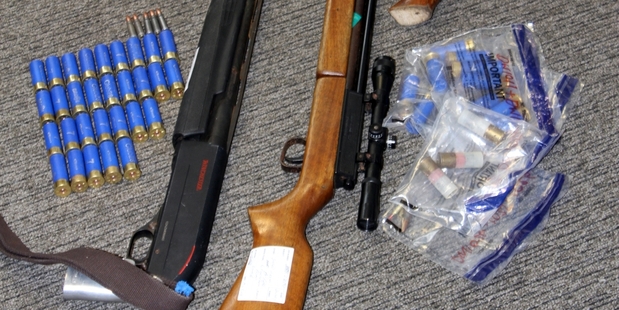 Police have yet to make an arrest over the shooting of a man in Archibald Street, Kaitaia, on February 12 (Old soldier a victim too? February 16), but the investigation bore fruit last week when a search warrant was executed at an address at Taipa.
Two people were arrested, both on firearms charges, one of them also on charges of aggravated robbery and kidnapping, relating to an incident at Mangonui in December.
Police also seized two firearms, a 12-gauge shotgun and a .177 semi-automatic rifle, both cut down and fitted with pistol grips, along with 102 rounds of ammunition.
Neither weapon was used in the Archibald Street shooting.
Detective Greg Johnson, from the Northland Organised Crime Unit, said the shooting had been part of an on-going dispute between the Tribesmen and Black Power gangs, the worrying feature being that some of those involved had access to and were willing to use high-powered weapons.
Police believe that the February 12 shooting involved a high-powered military-style automatic rifle.
The investigation was continuing, Detective Johnson added yesterday, with a team including five detectives from Auckland, while the Armed Offenders' Squad had been called from Whangarei prior to the execution of the search warrant at Taipa. Those officers later enjoyed a cup of coffee in Kaitaia, their presence attracting very positive public feedback.
"I think a lot of people up here have had enough of the gangs."
Anyone with information on the shooting was urged to contact Detective Johnson, (021) 191-6007, or, anonymously, Crimestoppers on 0800 555-111.
Detective Johnson also said that police would always be pleased to hear from anyone who was aware of firearms that were "where they shouldn't be" in general, as opposed to this specific incident.
"It's always nice to get these weapons off the street," he said, "and any information we receive will be appreciated and acted upon."