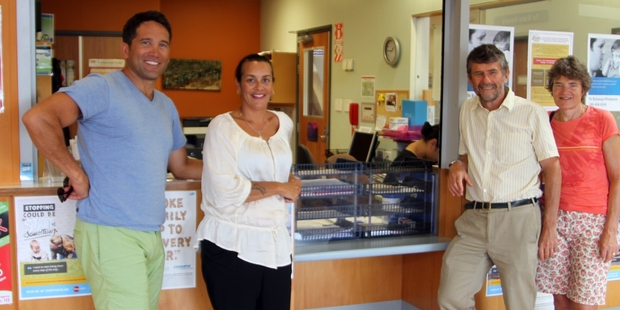 Dr Lance O'Sullivan and his wife Tracy have sold their general practice clinic at Kaitaia Hospital, Te Kohanga Whakaora, to Kaikohe's Broadway Health.
Shane Cross, a GP in Kaikohe for more than 30 years, and his practice nurse wife Alyson were in Kaitaia last week to attend to details of the transaction, but the O'Sullivans will by no means be lost to the Far North.
Dr O'Sullivan said he would continue to work at the practice part-time, alongside Dr Kath Rollo and Dr Joel Pirini, who had experience of working at the clinic as a student.
Dr Cross said the practice would be unique in New Zealand in that it would be staffed by three Maori GPs.
Dr O'Sullivan, who had previously worked at Te Hauora o Te Hiku o Te Ika, and his wife opened the clinic in November 2012, but their focus since then has broadened to include 'tele-health', a passion that they now intend to further develop and expand.
"This change gives us the opportunity to promote health in a very different way," Dr O'Sullivan said.
The programme, part of Manawa Ora, Korokoro Ora (MOKO), that the couple also founded in Kaitaia, initially as a means of addressing high rates of rheumatic fever by early diagnosis, sees volunteers assessing children at schools around the Far North and now as far south as Pukekohe.
They send pictures of ailments such as skin infections to Kaitaia via the internet, where they are diagnosed and scripts issued for treatment.
Records of those diagnoses and prescriptions are referred to the child's own doctor.
Mrs O'Sullivan said last week that the programme was undoubtedly effective.
Problems such as skin conditions were reducing over time at schools where the programme operated, the children and their families also benefiting from the information they received about prevention of infections in the first place.
She and her husband were now looking at expanding the programme, and throat swabbing as a means of identifying the potential for rheumatic fever before it became a serious health problem, further across the region.
The programme received a significant boost last year when the couple's company, Navilluso Medical Ltd., which at that time employed 21 doctors, nurses, health promoters and community health workers, won the first $30,000 grant from Top Energy's business development fund.
The money was used to develop the remote diagnosis and treatment facility for rural communities across Northland and beyond.
Dr O'Sullivan said then that the plan was to grow the programme well beyond the Far North, Northland, and even beyond New Zealand.
"We believe this model of care could create the opportunity to have a telemedicine clinic based in Kaitaia serving the needs of the country, and even further abroad," he said.
"There is no reason why Kaitaia could not become the Silicon Valley of New Zealand tele-healthcare."