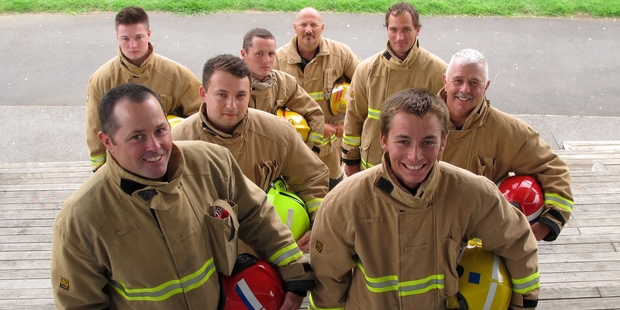 Kerikeri's volunteer firefighters are planning an all-out assault on Auckland's Sky Tower. And while they're at it they hope to raise at least $10,000 for leukaemia patients.
The annual Sky Tower Challenge (on May 28) will once again see firefighters from around the country race up the Auckland landmark's 1103 steps while weighed down with 25kg of gear and breathing from air tanks. At the same time each brigade will compete to see how much they can raise for Leukaemia and Blood Cancer New Zealand.
The Kerikeri Fire Brigade will take part for the third time this year. Station Officer Charlie Le Couteur said in 2014 the brigade won an award for best first-time entry; last year it raised about $6000.
"This year we hope to raise at least $10,000 and we're encouraging locals to get behind us," he said.
The 10 volunteers who had signed up for the challenge would train every Wednesday and Thursday evening.
After warming up in the fire station garden they would jog a few laps of the Domain, then run up and down the fire escape steps at the John Butler Centre. With 60 steps, just over 18 ascents will be equivalent to one Sky Tower.
Half a dozen members of the team would also work on their fitness later this month by competing in the gruelling Firefighters' Combat Challenge in Wanganui, which involves running up stairs with a 20kg hose, dragging an 80kg dummy, using a sledgehammer, running a slalom course, operating a hose and more in less than two minutes. The record is one minute 15 seconds.
Alongside the physical training the firefighters would raise money through car washes, bucket collections and an auction of donated items. This year they also planned to use social media, and to invite businesses to donate or run their own fundraisers.
"We're trying to gear up and get the community behind us, like they've done in the past two years, but we want to take it to another level," Charlie said.
Station Officer Ben Scott said last year's Sky Tower Challenge raised more than $1 million for Leukaemia and Blood Cancer NZ, the Fire Service's No 1 charity: "The goal is to show New Zealand how good Kerikeri is and how much support we have. The physical challenge is one aspect of it, but it's also about going out and supporting the community."
The event also benefited the public by raising firefighters' fitness levels, making them better able to respond in emergencies.
Northland has a proud history in the Sky Tower Challenge, which was founded by Pakaraka firefighter Tony Scott. The Paihia brigade topped the fundraising table five years in a row, a feat that has yet to be surpassed, and in 2015 Kaikohe claimed the community spirit trophy by raising $18,513, more than any other Northland brigade, in its debut.
Anyone who would like to donate to the Kerikeri Fire Brigade's campaign, or has any fundraising ideas, is invited to text Ben Scott on (027) 244-1293 or Charlie Le Couteur on (021) 578-801 (they will call back). Alternatively, email Charlie on k9dskerikeri@gmail.com