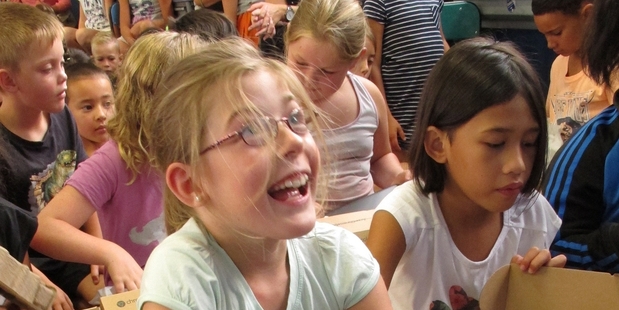 Year 4 pupils at Ohaeawai School have received brand new Chromebooks, part of the roll-out at the Kaikohekohe Education Network of seven schools - Ohaeawai, Kaikohe West, Northland College, Kawakawa, Paihia, Tautoro and Waima - which are part of the Manaiakalani Outreach programme.
It was an exciting day, principal Lee Whitelaw said.
"The use of Chromebooks as a learning tool is not a replacement for books, paper and pencils, but it is a different way of learning through instant connection with peers, teachers, family/whanau and the wider world," she added.
"It demands a teaching and learning approach that educational research has identified as greatly enhancing student engagement in learning."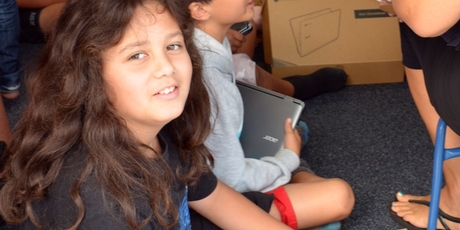 The schools involved in the Kaikohekohe Education Network work closely together with each other and their whanau to provide the opportunities for continuous learning, she said, and her pupils were extremely proud of their parents for allowing this latest innovation by paying for their Chromebooks weekly .
Teacher Alicia Craig said one of the big advantages of the Chromebooks was that she was able to see students' work via her computer dashboard, give feedback and make corrections in real time, instead of having to gather up exercise books. She could also check where students had been online. Their work was posted on a blog that could be accessed by parents, aunties, friends and classmates, who could add their own comments.
Mrs Craig said the children's writing had improved significantly as a result.
"In the past only teachers saw their work. Now they have an audience and a purpose. Now they think 'I'm not just writing for Mrs Craig. I'm writing it for my parents or my auntie to see'," she said.
The laptops also allowed children to learn anywhere and at any time.
Ten-year-old Charlee Littin said when she took her Chromebook home she could keep up with what her classmates were doing.
"Since we've gone from pen and paper to technology we've been communicating more with each other and the outside world," she said.
Riley Clayden, also 10, said learning on his Chromebook was fun because a lot of it was game-based, such as the Maths Buddy programme, in which his character died if he got an equation wrong.
Ms Whitelaw said the children were taught about cyber safety and how to behave online, and were only allowed to take their Chromebooks home once their parents had completed two Cybersmart sessions.
And while some people worried that children would spend all their time on computers, they were still getting outside, playing sport and practising kapa haka.
"It's just a tool for learning, in place of pen and paper," she said.