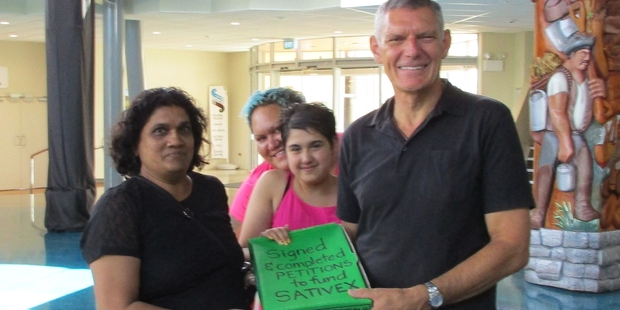 A Kaitaia woman is the first person in the country to receive publicly-funded medical cannabis to control severe epilepsy.
The news came last week as Kerikeri-based Green MP David Clendon was due to table a petition in Parliament calling on the government to fund the medication for all patients with life-threatening seizures or multiple sclerosis.
Twenty-year-old Alisha Butt has been using Sativex, medication derived from cannabis that is sprayed under the tongue, since September, when she was hospitalised three times with extreme seizures. The worst took 20 hours for hospital staff to bring under control.
Her desperate parents, Royd and Sushila Butt, tried Sativex at her doctors' suggestion, and said her seizures decreased dramatically in frequency and duration. The catch was that Sativex was not publicly funded, and was approved in New Zealand only for multiple sclerosis.
The family was given permission to use the drug, but, as full-time caregivers for two severely disabled children, could not afford the $1000 per month cost.
The family has battled Pharmac to have the drug funded for Alisha, but were refused on the grounds that there was not enough evidence that it was effective for epilepsy.
An anonymous benefactor in Kaitaia paid for the first month's supply, and WINZ covered 75 per cent of the cost for another three months. The family has now been thrown a lifeline by the Northland District Health Board, which will fund the medication for as long as it is needed and remains effective.
Mrs Butt said Alisha's seizures were so bad by last September that the family feared she would not survive. Now her seizures lasted less than a minute, instead of hours, and she slept six or seven hours at night instead of constantly being woken by seizures. As a result the family's quality of life had also improved greatly.
Mrs Butt said she was grateful to the health board and the staff at Kaitaia Hospital, who had been extremely helpful.
She believed the decision would also save the health board money. She had been told the cost of treating Alisha each time she had to be hospitalised averaged $17,000, not counting helicopter transfers to Whangarei.
She collected the first batch of health-board funded medication on Tuesday last week. And while some overseas patients had reported that Sativex' effectiveness wore off over time, it was still working for her daughter.
Meanwhile, the Butts have vowed to keep up the fight for other families in similar situations. Mrs Butt believed there was resistance to Sativex because it was derived from cannabis, even though it was made by a pharmaceutical company.
"People should be given a chance. Never mind that it comes from marijuana," she said.
The family organised a petition calling for Sativex to be approved and funded for all patients with severe seizures and multiple sclerosis. They collected 6125 signatures in a month, mostly in Kaitaia and Kerikeri. People had been very supportive, she said.
The petition was collected in Kaitaia by Green MP David Clendon.
Northland District Health Board chief executive Nick Chamberlain said Pharmac had given the board authority to decide to fund Sativex for a specific patient out of its own budget.
"It was our belief that the specific and exceptional circumstances of the patient warranted making application in this particular instance ... We've decided to fund Sativex for this specific patient out of our non-community pharmaceutical benefit funding, and are making these arrangements forthwith," he said.
Epilepsy New Zealand chief executive Graeme Ambler said Alisha was the first patient he knew of to receive publicly-funded Sativex.
"We're really supportive of the family. We're pleased to hear the outcome," he said.
Medical cannabis support group United in Compassion is organising a symposium in April in a bid to change attitudes to medical cannabis.
The group said some health professionals did not understand it was a health issue separate to recreational use.
- Sativex is currently approved in New Zealand only for treating spasticity (muscle stiffness) caused by multiple sclerosis. Other use has to be approved by the Health Minister, and is not government-funded. In exceptional circumstances Pharmac will subsidise unfunded medications under the Named Patient Pharmaceutical Assessment scheme (the Butts' application was declined).
Pharmac's clinical advisory committee is, however, currently considering whether to include Sativex on its list of funded medicines for multiple sclerosis, epilepsy and pain.