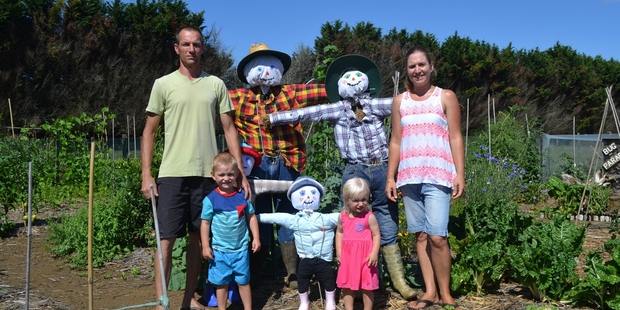 An idea to keep the birds off her bountiful vegetable crop has won Kaikohe's Collette Redman a place in the Yates Spring Vegie Growing Challenge.
Collette came up with a plan to protect her precious vegetables involving four scarecrows representing herself, her husband Alby and children Anthony (3) and Elsie (1). And that 'second family' has won the Best Bird Scarer category in the annual competition.
"We made our scarecrow family out of bits and pieces lying around," she said.
"Bamboo from the garden made up the basic structure, and some of the animals' hay went into the stuffing. The clothing was either old and worn out, or in the case of the children, too small and no longer wearable."
And the result did not only work on the local bird population.
"The dogs totally freaked out when we brought them outside and put them in the garden," she added.
As well as entering the Bird Scarer category, Collette was busy growing a huge selection of vegies in her 400 square metre plot, including beans, peas, broad beans, carrots, beetroot, radish, kale, rocket, lettuce, fennel, dill, celery, kohlrabi, cabbage, collards, spinach, chillies, capsicum, tomatoes, cauliflower, broccoli, parsnip, swedes, chicory, sweet corn, leeks, onions, spring onions, rhubarb and silver beet.
An unexpected claim to glory was winning the best Failed Attempt at Growing Vegies category for her carrots, which refused to grow.
"Everyone knows it's easy to grow carrots, and it's usually the first vegetable you encourage kids to grow, but for some reason it took me 14 attempts to get mine to grow," Collette said.
"I finally worked out that the volcanic soil was drying out too fast, so I used potting mix on the top layer, which held the moisture, and then I was away."
As well as tending to all those vegetables, Collette also planted up the animals' exclusive vegie garden with maize, beets, carrots and kale, and under-planted the 800-square metre orchard with pumpkin, cucumbers, squash, courgettes and water melons.
The sheep, pigs, chickens and ducks will be in for a feast at harvest time.
The Redman family are also sharing their surplus produce with friends and family, as well as selling to the local community.
The competition required participants to regularly blog about their garden, and Collette enjoyed sitting down at the end of the day and writing about her garden as well as reading other gardeners' experiences.
"I got so much inspiration from the other gardeners, and learned a lot," she said.
"That's what I love about gardening - you are constantly learning as you move through the different seasons in the garden.
"It has been so much fun, and I'll definitely be joining the Challenge again this year."
Yates' marketing manager Fiona Arthur said the Spring Vegie Growing Challenge was designed to foster grass-roots gardening and bring gardeners together to share their successes, problems and aspirations.
"We created various categories to interest all types of gardeners - adults and children, home gardeners, community gardeners and school gardeners - as well as some fun mini-challenges," she said.
"All the entrants have been blogging up a storm, showing off their prize vegies and seeking help when they've hit a difficult patch.
"There has been a lot of learning, sharing and laughs along the way."
Yates ambassador Sarah O'Neil (aka Sarah the Gardener), one of the first winners of the Challenge, now mentors participants.
She has also gone on to become an author, gardening columnist and popular speaker, and is passionate about her garden.
The competition, now in its fifth year, will run again in September. To check out the other winners visit www.yates.co.nz/vegie-challenge/2015