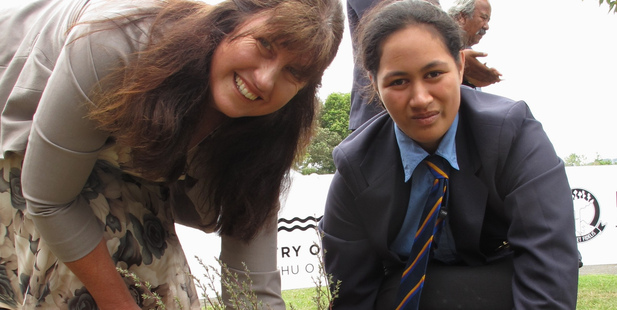 A manuka honey scheme at Kaikohe's Northland College and a $4 million boost for Whangarei's Hundertwasser Centre were among the announcements at the launch of an economic plan in Kerikeri last Thursday.
The government says the 58 actions detailed in its Tai Tokerau Northland Economic Action Plan will help transform the region's economy, which continues to lag behind the rest of New Zealand on almost every measure.
Hundertwasser was the only project promised a direct cash infusion - provided its backers can raise the rest of the money needed - although Economic Development Minister Steven Joyce said about 19 projects would receive some form of government funding.
A proposal to build a pulp and timber mill at Ngawha costing an estimated $600 million, using surplus steam and heat from the geothermal power station, would have to be privately funded, but the government could help find investors through NZ Trade and Enterprise.
The plan was unveiled at Marsden Estate Winery by Mr Joyce, Maori Development Minister Te Ururoa Flavell and Primary Industries Minister Nathan Guy. About 300 people, a who's who of Northland business and politics, attended the launch.
The Hundertwasser announcement was greeted with cheers and applause, not least from Whangarei Mayor Sheryl Mai and MP Shane Reti. It was also welcomed by Prosper Northland, the group behind the proposal, which has now raised $10 million. Trust chairman Barry Trass said the project's target of $16.25 million was well within reach.
Mr Joyce said the Hundertwasser Centre would provide Northland with an iconic building and a "must-see tourist destination." It would benefit people across Northland because it would attract a new group of tourists to the region.
He denied the action plan was driven by the National Party's desire to regain Northland after losing the electorate to New Zealand First leader Winston Peters in last year's by-election.
Work on the plan had started before anyone knew a by-election would be necessary, he said.
Parts of the plan were already under way, with tenders going out last week for the first section of four-laning State Highway 1 from Puhoi to Warkworth (although former MP Dover Samuels questioned how a road in Auckland would benefit people in the Far North), and the government was working on a new plan to four-lane the highway 1 all the way to Whangarei.
Mr Joyce cautioned that that would not happen overnight, however.
Mr Flavell said another key to improving Northland's economy was to free- up the region's under- used, multiply-owned Maori land. He was confident that his Te Ture Whenua Bill, reforming Maori land laws, would be before Parliament by the end of March.
Ngati Kuri leader Harry Burkhardt said Northland was "a developing economy within a developed economy',' where above all his people wanted jobs and the ability to support their whanau. Transforming the region's economy would be complicated and hard, but he was driven to play his part by " an abhorrence of how things are today."
After the launch the ministers travelled to Northland College in Kaikohe to hear about an initiative to plant schoolowned land in manuka and train students for the lucrative manuka honey industry.
According to the plan, the best opportunities for boosting Northland's economy include:
the Twin Coast Discovery Project (also known as the 10 Bridges).
Tourism projects such as the expansion of Peppers Carrington, the Twin Coast Cycle Trail, Manea Footprints of Kupe Heritage Centre in Opononi and the Hundertwasser Centre. Farm productivity improvements. Freeing-up Maori land. Improving key road freight routes. A timber and pulp mill at Ngawha using surplus steam and heat from Top Energy's geothermal power station. Developing a totara timber industry. A kingfish farm at NIWA's Bream Bay base. A boat lift in Whangarei. Developing a manuka honey industry. Boosting the use of broadband. Improved water storage and management (for farming and horticulture).
The action plan was commissioned by the Ministry of Business, Innovation and Employment and the Ministry for Primary Industries, which worked with businesses, iwi, councils and Northland Inc. Other parts of the country in the Regional Growth Programme are Bay of Plenty, East Coast and Manawatu-Whanganui.