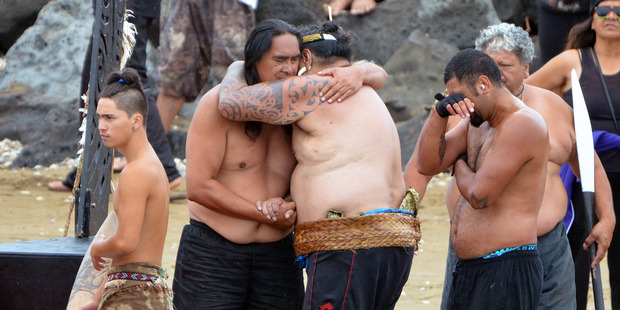 Waitangi National Trust chairman Pita Paraone has suggested that Te Tii Marae be by-passed in the lead-up to future Waitangi Day celebrations at Waitangi, in the wake of last week's row over whether the Prime Minister should be invited there.
Mr Paraone said he had been approached by a number of people who believed the upper marae on the Treaty Grounds would be a more appropriate venue for hosting the pre-Waitangi Day powhiri for Crown officials. And he had the support of former Labour MP Shane Jones.
"It is disappointing that the leader of the Opposition would only be welcomed if he sang Pokarekare Ana," Mr Jones said.
A hui at Te Tii Marae last week resulted in a 38-14 vote in favour of banning the Prime Minister from the marae. The marae trustees subsequently overruled the vote, and invite Mr Key on the condition that he would not "talk politics." Mr Key declined the invitation, and went to the Auckland Nines at Eden Park instead, having decided that to attend Waitangi Day celebrations at Waitangi without an invitation to the marae would be a breach of protocol.
"When the Crown comes to Waitangi, they come to the North," Mr Jones added. He suggested the powhiri could be be hosted by other marae, such as Otiria's Tumatauenga, built in memory of the 28th Maori Battalion, as it had been many years ago.
"I'm sure (Te Tii) meanders along for 11 months, and then in February it is like a possum in headlights. The idea that a hui comprising 52 people who voted should bind the entirety of Te Tai Tokerau - that's not Waitangi, that's wairangi (unbalanced)," he said.
Mr Paraone said Te Whare Runanga, on the Treaty Grounds, might be a better place to host the powhiri because the Waitangi National Trust was apolitical.
"I think it is all about leadership, and at the moment that is lacking in the whole tribe," he said.
Meanwhile an Asian protest at Waitangi on Saturday called for New Zealanders of all origins to support Maori sovereignty.
The Auckland- based group Asians Supporting Tino Rangatiratanga took part in the hikoi from Te Tii Marae to the Treaty Grounds, its banner sparking plenty of curiosity and discussion.
Group member Julie Zhu said the colonial injustice that was continuing in New Zealand included the TPP deal, signed in Auckland two days before, which she said prioritised corporate rights over tangata whenua.
Many Asian countries had also suffered colonisation by Britain or other European powers, making it easier for people of Asian descent to understand the position Maori found themselves in today.
Mengzhu Fu said failure to honour the Treaty and He Whakaputanga (The 1835 Declaration of Independence) had led to a great deal of injustice.
"We want to encourage other tauiwi, that aren't Pakeha, to support decolonisation and tino rangatiratanga," she said.
As a New Zealander of Asian descent she was also a settler, she added, and would feel complicit if she did not at least speak out.