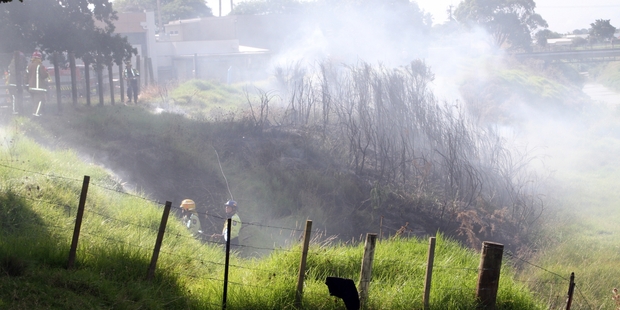 Kaitaia's Chief Fire Officer will be sparing no effort in his hunt for the people who kept his volunteer brigade busy on Monday afternoon.
Colin Kitchen said CCTV footage would be examined in the hope of identifying the culprits, who lit four or five fires in grass on the stopbank behind Te Ahu, tried to set fire to a shed on the A&P showgrounds, lit two more grass fires in Bank Street and a couple in the vicinity of the Pukepoto Road bridge.
"It's likely that they were all the result of kids with matches," he said.
"And I've got a message for them - give yourselves up before you get caught. And you will be caught if I've got anything to do with it.
"Monday was supposed to be a holiday and here we were running around town all day putting out fires.
"We've all got much better things to do than follow behind stupid people who haven't got the brains to realise the danger they are creating for people and property."
Monday afternoon began with a grass fire at an address in Pukepoto Road, which spread from an incinerator.
Deputy CFO Craig Rogers said the incident was graphic evidence of just how dry ground conditions had become, despite recent rain.