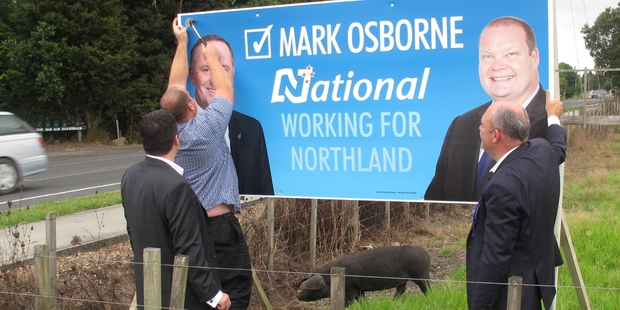 Prime Minister John Key's state of the nation speech last week was more a state of Auckland speech, with only a few meagre offerings for the provinces, according to Northland MP Winston Peters.
A major concern for provincial New Zealand was the decline in the state of the roading network, especially rural roads, and the "sad deterioration" of the national rail network, but all Mr Key and his government could offer was $115 million for roading projects in just three regions, and making much about 'accelerating' projects.
"What nonsense. These projects will have been on the books for years," Mr Peters said.
"And what about the rest of New Zealand? Regional New Zealand needs a big investment programme, not just maintenance.
"KiwiRail has acknowledged that they are just doing enough to keep our main rail lines, the North Island and South Island main trunk lines, up to their current state.
In Northland, KiwiRail say the line is only being kept to a state that will result in deterioration. This is also happening on other provincial lines, like the Napier line.
"At the same time as our rail lines decline, the pressure on our roads intensifies. This will get worse, as the government is now considering allowing even more monster-size trucks on our roads.
"To ease pressure on Auckland infrastructure the government should be maintaining our national road and rail networks to the highest standards, and providing incentives for businesses to relocate from Auckland to places like Dargaville, Timaru and Oamaru.
"Most of New Zealand's export income derives from provincial New Zealand, but you wouldn't think this was the case under National. They are fixated on Auckland and its problems at the expense of the rest of New Zealand."
Mr Peters also asked what had become of National's by-election promises last year in terms of roads and bridges in the region. Those promises had included two-laning 10 one-lane bridges, but so far the government had only budgeted for the ones at Matakohe, Taipa and Kaeo.
"Given these promises were made to catch votes, and the media were called to announce the government's magnanimity, the failure to follow through is a breach of trust," he said.
"National has gone back to its old ways, and is thumbing its nose at Northland. The bridges were costed at $69 million, so where did that funding go? It's not a matter of whether everyone agreed with the need for two-laning; it's that Northlanders should be able to have faith in the government of the day.
"As Columbus tripped across the Americas, so too did Mr Key and Mr Joyce discover Northland in March last year - and the rest of regional New Zealand soon after - but it appears that's as far as it goes.
"Northland is waiting for the full set of promises - 10 two-lane bridges, superfast broadband rollout, taxpayer-funded cell phone coverage and the Puhoi to Wellsford highway."