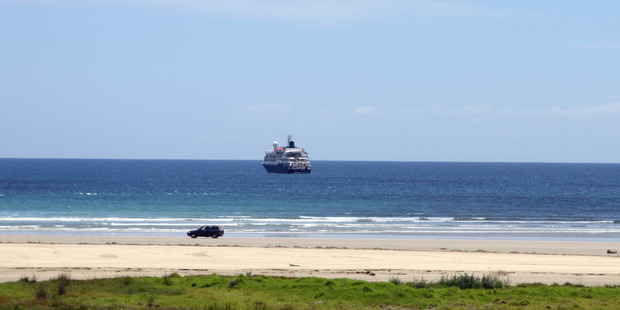 Fishing boats and pleasure craft are not an unusual sight off Ahipara, but last week's visitor was well and truly out of the ordinary.
Northland harbourmaster Jim Lyle confirmed that the small cruise ship that parked off the beach for a time on Monday was MS Caledonian Sky, formerly the Hebridean Spirit, billed by its owner, Noble Caledonia, as one of the finest small cruise ships in the world, more akin to a country hotel than her larger counterparts.
With a maximum capacity of 114 passengers, she was on her way from New Plymouth to the Bay of Islands, where she arrived on Tuesday, on a circumnavigation of New Zealand when she paused off Ahipara.
She is due to sail on a 23-night cruise from Papua New Guinea to Bali on Monday, berths (from London) selling for 10,495 ($23,050).