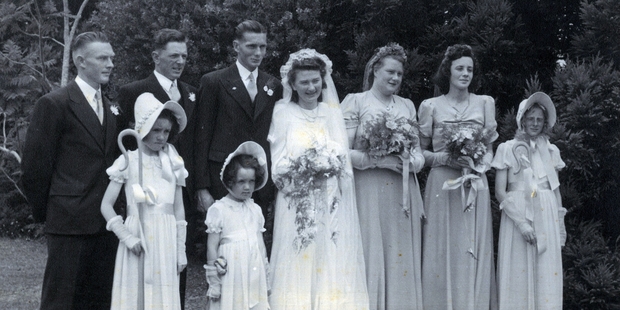 Golden wedding anniversaries are not especially uncommon, but sapphire anniversaries (65 years) are rarer. And one Kaitaia family might well have set some kind of record with two such milestones.
Tom and Marjorie Watts celebrated their 67th wedding anniversary in December, while Marjorie's brother Arthur Taylor and his wife Sandra celebrated their 65th on June 1. Both couples were married at St Saviour's Anglican Church in Kaitaia.
The Taylor family moved north from the Waikato in the 1940s, settling at Diggers' Valley. Arthur (now 92) and Sandra (87), Tom (93) and Marjorie (86), dairy farmed there for many years, both couples raising five children and now living in retirement in Kaitaia (where Tom still drives, and enjoys a weekly round of golf).
Two of Arthur and Marjorie's siblings, Patsy Panther and Noelene Dean, say a great deal had changed in society since the 1950s. Both couples had worked hard in relative isolation to make their living and raise their families, and from a purely practical point of view had had little choice but to 'get on'.
They were also of a generation for whom the commitment of marriage may have meant more than it did today.
The Watts were well known for their pedigree Jersey herd, while Marjorie had a reputation of her own as a cake decorator and grower of roses.
Tom, who was born at Mangonui Hospital, presumably necessitating a long, uncomfortable journey for his mother by horse and gig, and Marjorie met on the tennis court at Diggers' Valley when he was 22 and she was 16, while Arthur met Sandra when she was nursing in Kaitaia with Marjorie and her sister Iris, who subsequently married Earle Metcalfe, no relation to Sandra.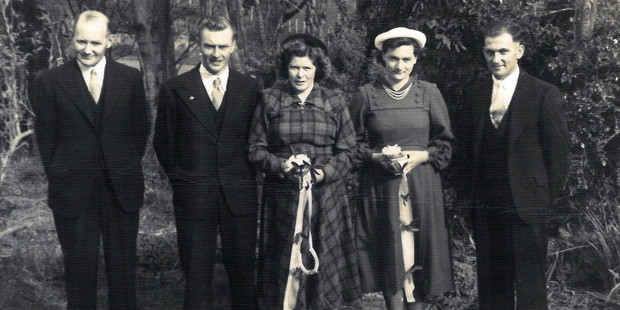 Both weddings had been followed by memorable receptions, Patsy said.
Arthur and Sandra's was at Iris and Earle's home.
Tom and Marjorie's was at the A&P Hall (approximately where Te Ahu stands today).
Tom and Arthur both served during World War II, Tom in the Medical Corps and Arthur in the RNZAF.
Tom, who worked alongside his father pitsawing timber as a young man, and later operated a sawmill with Arthur, also provided a lifelong memento of his wedding for Marjorie's flowergirls in the form of shepherds' crooks.
Names to accompany main image: Tom and Marjorie Watts on their wedding day. Also pictured, from the left are Arthur Taylor (brother of the bride), bestman Bob Widdup, bridesmaids Patsy Taylor (Panther, sister of the bride), Una Watts (sister of the groom), flowergirl Noelene Taylor (Dean, sister of the bride), and in front flowergirls Velda Paton (Berghan) and Joan Paton.